Ehime curry sauce with deep fried dried whitebait (1serving, 200g)
[
T81NK54384
]
Ehime curry sauce with deep fried dried whitebait (1serving, 200g)
[
T81NK54384
]
Our Selling Price: US$3.20(tax incl.)
Ready-made curry with local delicacy
Ehime Curry sauce with deep fried dried whitebait
(1serving, 200g)
You can enjoy curry sauce with local delicacy at home.
Deep fried dried whitebait, called "jako-ten" in Japanese,
is the local delicacy in MatsuyamaCity, EhimePrefecture. (Located in south-west Japan)
You will appreciate "jako-ten" flavour in this Japanese curry sauce.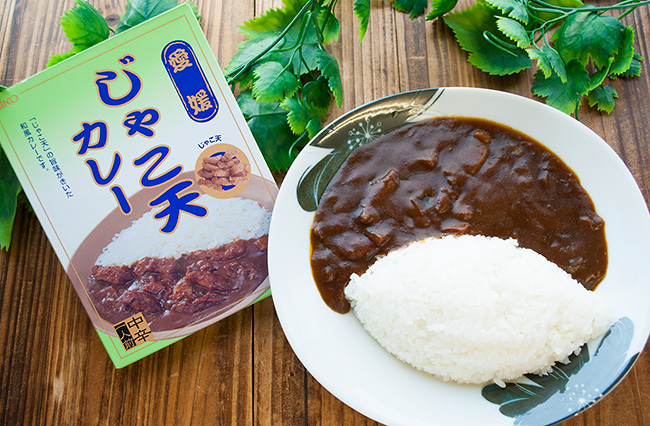 Ready-made curry with local delicacy
Curry sauce with deep fried dried whitebait, Medium-spicy (1serving, 200g)
Mashed fresh whitebaits from Seto Inland Sea, known for moderate climate, mixed with minced Alaska pollock, and deep-fried.
You will taste full of flavour of fish with unique texture.
This curry has unique harmony of fish flavour and spicy curry sauce.
How to prepare
*For hot water:
Put a curry pouch without opening pouch into a pan with boiled water to cover the pouch fully. Warm up for 3-5 minutes.
*For microwave:
Pour curry sauce into a microwavable container. Cover with plastic wrap and warm it up.
Name: Curry sauce
Ingredients: Vegetables (Onion, Potato, Carrot, Garlic, Ginger),
Minced fish, Lard, Flour, Curry powder, Sugar, Salt, Chutney,
Apple Puree, Tomato paste, Soy sauce, , Worcestershire sauce,
Beef extract, Honey, Spices,
Seasonings (including milk, egg or pork in the ingredients)
Net weight: 200g
Expiry: 720days
Storage: Avoid sunshine, Store in room temperature
Manufacturer: Mitsukoshi Isetan Food Services Co. Ltd.
Nutrition Fact (per 200g)
Calories: 198kcal
Protein: 5.8g
Fat: 10.1g
Carbohydrate: 20.9g
Sodium: 1062mg
*Spicy Scale: 3 out of 5 (5 is the most spicy)
*Package may be changed.