Organic Red Beans for Red-bean Rice 230g Made in JAPAN
[
T81EA90012
]
Organic Red Beans for Red-bean Rice 230g Made in JAPAN
[
T81EA90012
]
Our Selling Price: US$2.50(tax incl.)
Organic Red Beans
for Red-bean Rice 230g
Made in JAPAN
It makes you easy to cook Japanese red-bean rice!
Certified by Organic JAS (Japanese Agricultural Standard)
You can cook 3 cups of rice by adding this can of red beans.
Add red beans into a rice cooker with rice and proper amount of water…. That's it!
You can prepare Japanese red-bean rice easily!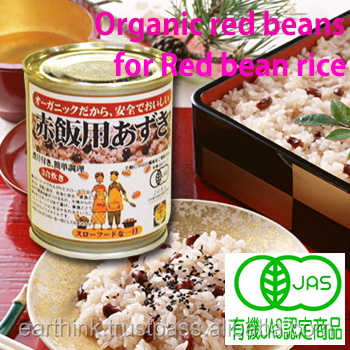 Name: Canned red beans
Ingredients: Organic red beans, Salt, Lemon juice, Calcium chloride
Net weight: 230g
Expiry: 720days
Storage: Store in room temperature
Manufacturer: Endo sei-an
Nutrition fact (per 100g)
Calories: 85kcal
Protein: 4.6g
Fat: 0.5g
Carbohydrate: 15.5g
Sodium: 29.3mg
*Package may be changed.
Category: organic, red bean, JAS, long storage