AMANO FOODS freeze-drying red pepper soup "The UMAMI"(10 serving)
[
T11F20820X10
]
AMANO FOODS freeze-drying red pepper soup "The UMAMI"(10 serving)
[
T11F20820X10
]
Our Selling Price: US$10.00(tax incl.)
AMANO FOODS freeze-drying red pepper soup "The UMAMI"(1 serving)
The effect of the Japanese food and stock boom,
"umami" has been recognized as a new value to the meals.
Bring out the original flavor of red pepper,
"umami" is overflowing into the soup.
"The UMAMI" is a freeze-drying soup which is made
from the original recipe with no MSG.
To stimulate your appetite, the soup uses 3 kinds of red pepper
(medium-grind red pepper, pasty red pepper and powdered red pepper).
You may use it when you would like to serve 1 more dish to a meal or
lunch box with no preparation,
Introducing the "freeze-drying method" which makes the taste,
smell, and texture difficult to go away, the soup
with the "Umami" of ingredients was born.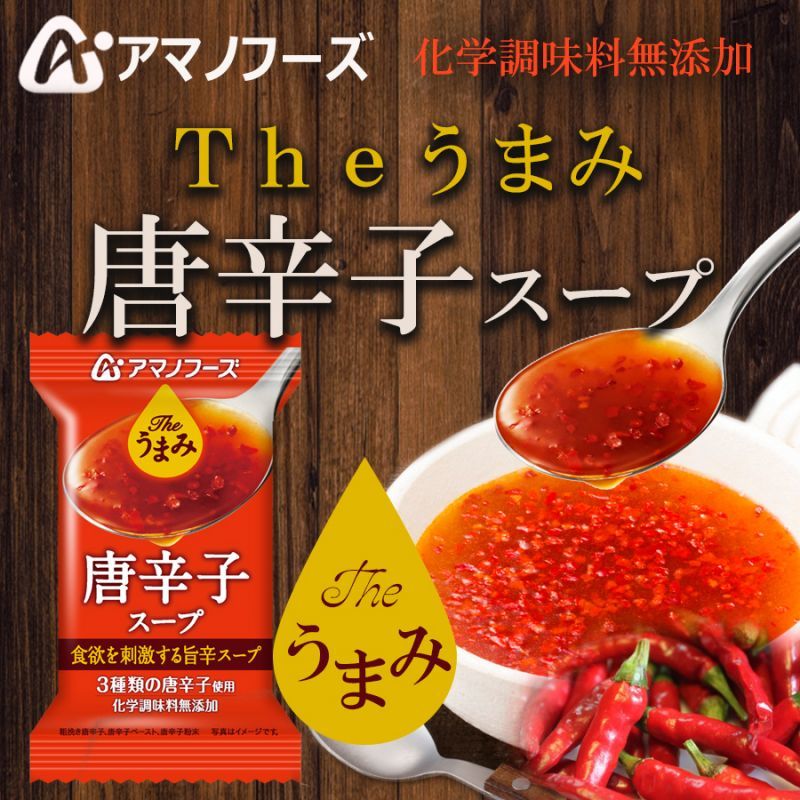 You can enjoy the soup when you are…
○At the office or on a business trip.
"The Umami" makes the lunch rich.
And you can eat it while you have overtime work.
This soup can be carried easily, you can take it with your business trip,
and eat it at the hotel.
○Enjoying outdoor sports.(mountaineering, camping)
"The Umami" makes you feel rich when you have a meal outside.
This soup is light and not bulky to carry, it suits for outdoor events.
Especially to the middle-aged and mountain climbers who love food,
this soup is highly recommended.
What is "Freeze-drying"?
"Freeze-Drying" is the method to rapidly freeze a cooked food and
dry it in a high-vacuum state.
(Effect)
○Because this method dehydrates well, it can keep the original shape,
and returns to the original food immediately.
○Of course, this method can keep the original color, flavor and smell,
can also make it difficult to ruin nutriment such as vitamins and protein.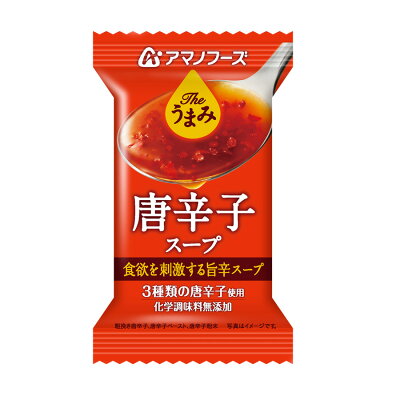 How to cook?
You can cook it if you prepare some boiled water.
Pour the boiled water(160ml) and stir.
Name: AMANO FOODS freeze-drying red pepper soup "The UMAMI"
Ingredients: Chiken extract, Poke extract, Salt, Starch, Soysauce, Pasty red pepper, Sesame oil, Powdered red pepper, Dextrin, Powdered yeast extract, Powdered onion extract, Powdered chinese cabbage extract, Powdered garlic extract, Fermented seasoning, Coarsely ground red pepper, Colorant(caramel&annatto), Tickener(xanthan gum), Antioxidant(Vitamin E)(contains wheat, sesame, soybean, chicken and pork)
Nutrients: Protein(1g), Lipid(0.7g), Carbohydrate(3.1g), Salt(1.3g)
Allergy: Products which include shrimps, crabs and
eggs are manufactured in the same factory.
Net weight: 6.4g
Expiry: 1year
Storage: Keep away from direct sunshine, store in the room temperature.
Manufacturer: Asahi Group Foods
※Package may change without notice.