Japanese and Chinese ingredients! Chintan soup with ginger which is fragrant with fish sauce
[
T81CR22170
]
Japanese and Chinese ingredients! Chintan soup with ginger which is fragrant with fish sauce
[
T81CR22170
]
Our Selling Price: US$3.20(tax incl.)
Japanese and Chinese ingredients!
Chintan soup with ginger which is fragrant with fish sauce
This is a soup contains Japanese and Chinese ingredients,
and we would like to recommend it to people who often feel cold.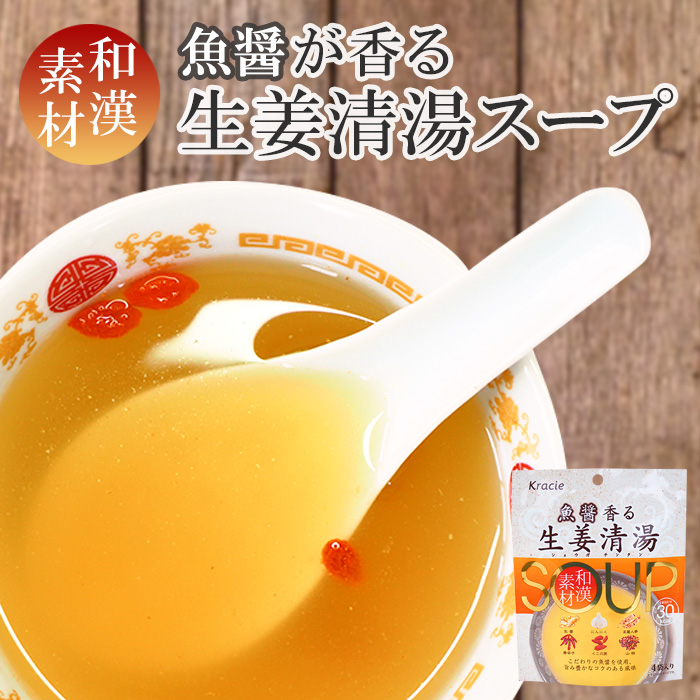 On traditional Chinese theory, people who often feel stressed are said that
their "blood" and "water" fall into disorder.
For those people, the soup contains Japanese and Chinese ingredients,
which are Fish sauce, Ginseng, Ginger, Japanese pepper, Garlic and Lycium.
Ginger raises the energy consumption and works well for cold hands and feet.
This is very flavorful soup with fish sauce's flavor and ginger's sharp taste.
How to Cook?
1 Put the powder into a cup.
2 Pour the boiled water(160ml).
3 Stir the soup after you pour the boiled water.
You may also enjoy the soup as rice porridge or use the powder
as a secret ingredient for dish.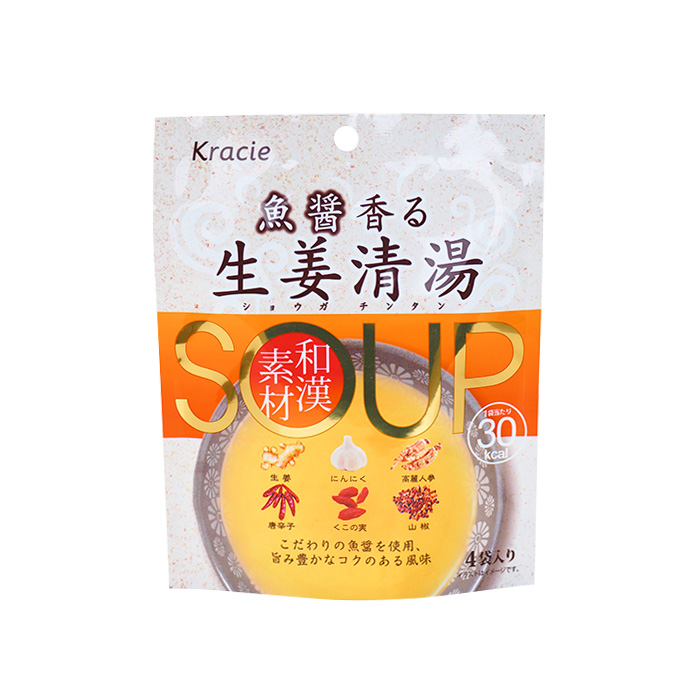 Ingredients: Dextrin, Powdered salt fish sauce, Sugar, Powdered ginger,
Powdered chicken extract, Powdered plant extract (ginger, ginseng, Japanese pepper),
Powdered yeast extract,
Garlic, Sesame oil, Spices, Floating garnish(Lycium),
Seasoning(amino acid: soybean・gelatin), Calcium phosphate
Allergy: Sesame, Soybean, Chicken, Gelatin, Fishery products
Nutrients: Calorie: 30kcal, Protein(0.5g), Lipoid (0g), Carbohydrate (7g), Salt (1.4g)
Expiry: 19months from manufactured (Please eat as soon as possible after opened)
Storage: Keep away from direct sunshine, store in the room temperature.
Manufacturer: Kracie Foods Co.,Ltd
※Package may change without notice.