AMANO FOODS Freeze-dried Food Reduced Salt "Today's Soup" (Chinese soup with five ingredients) 5packs
[
T11F20737
]
AMANO FOODS Freeze-dried Food Reduced Salt "Today's Soup" (Chinese soup with five ingredients) 5packs
[
T11F20737
]
Our Selling Price: US$3.50(tax incl.)
AMANO FOODS Freeze-dried Food
Reduced Salt
"Today's Soup" 5packs
(Chinese soup with five ingredients)
Chinese soup rich in color and flavor of eggs and vegetables.
Eggs laid in Japan and 5 kinds of ingredients make up the tasty soup.
You may enjoy its taste as if it has immediately after cooked.
Compared with our company's other product "Today's Soup"
(Chinese soup with five ingredients),
the amount of salt in 1 pack is reduced by 25%.
So you don't worry if you avoid salty meals.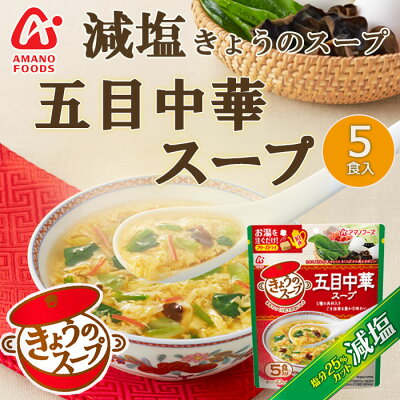 Everyone must feel relaxed with its mild taste!
Each pack is separated, so your family members can enjoy having
the soup whenever they want.
Either at home or office, you can cook it with boiled water only!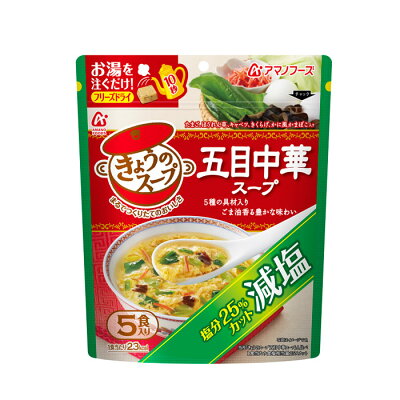 <Direction>
Pour the boiled water(160ml) and then stir it.
<Ingredients:>
Soy sauce, Reduced starch syrup, Powdered chicken bone extract,
Dextrin, Sodium,Sesame oil, Brewed vinegar, Sugar, Spice,
Chicken extract, Crab extract, Oyster extract, Chicken egg,
Spinach, Cabbage, Wood ear mushroom, Fish jelly products, Seasoning
(Amino acid etc..), Hydrolyzed protein, Thickener(tamarindgum),
Cellulose, Colorant (monascus, caramel, annatto),
Antioxidant (vitamin E), (contains crab, wheat, egg, milk component,
sesame, soybeans, chicken, pork, pork)
Nutrients: Calorie: 23kcal, Protein(1.2g), Fats (0.9g), Carbohydrate (2.6g), Sodium (0.9g)
Allergy: Egg, Milk, Wheat, Crab
Net Weight: 29.0g
Expiry: 12months from manufactured (unopened)
Storage: Keep away from direct sunshine, store in the room temperature.
Manufacturer: Amano Foods Co., Ltd
※Package may change without notice.