Gluten & Animal-Free Ramen (flavored with pork bone) 2packs 186g
[
T81TA12565
]
Gluten & Animal-Free Ramen (flavored with pork bone) 2packs 186g
[
T81TA12565
]
Our Selling Price: US$4.70(tax incl.)
Gluten&Animal-Free Ramen
(flavored with pork bone)
2packs 186g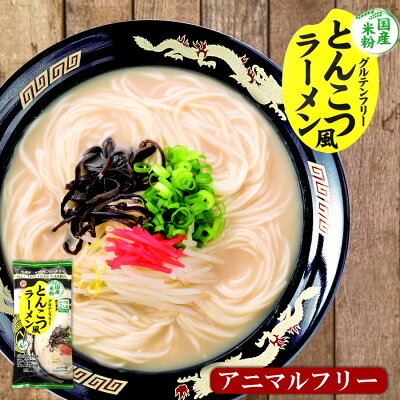 This is a non-fried ramen which is made of wheat grown in Japan,
and not using any materials made from wheat.
The soup is particular about Gluten-free.
The tasty milky soup and umami of garlic, sesame and vegetables
make up the original pork bone flavored soup.
Don't worry if you are vegetarian, vegan or have some problems taking in animal!
Any animal-based ingredients aren't used in this product,
So, you may not only eat it by yourself but also give it to foreigners as a gift.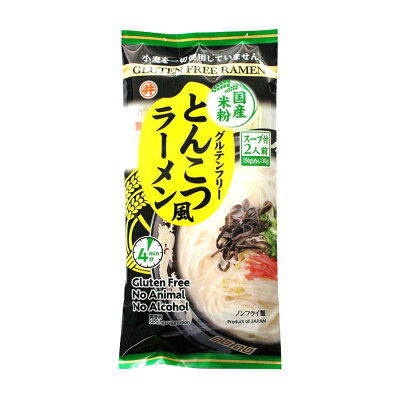 <Direction>
Put the noodles into boiling water for 3-4 minutes.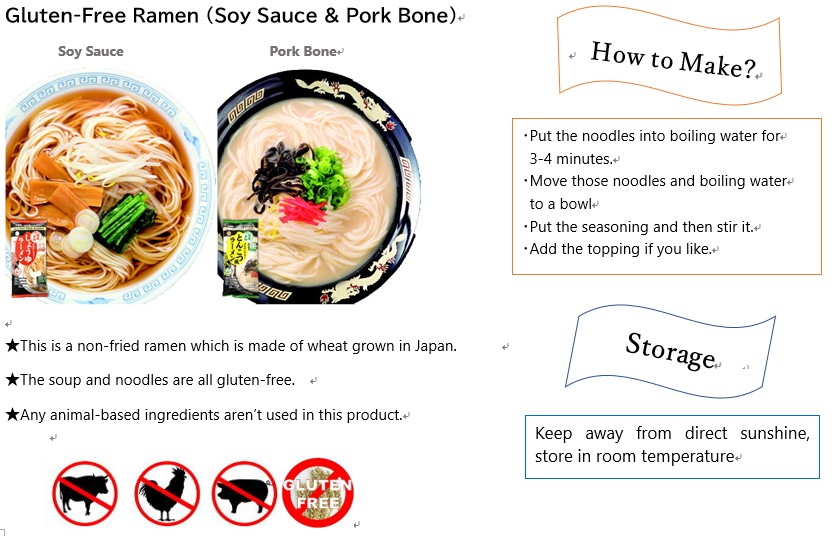 < Nutrition fact (per 78g)>
Calories: 243kcal
Protein: 4.6g
Fat: 0.6g
Carbohydrate: 55.0g
Sodium: 4.3g
Expiry: 10months
Storage: Keep away from direct sunshine, store in room temperature
Manufacturer: Toa Food Industrial Co.,Ltd
Ingredients: rice flour grown in Japan, powdered corn, processed starch,
oligosaccharide, sodium, powdered soy sauce, dextrin, sugar, roasted garlic powder.
yeast extract, processed kelp, vegetable extract, powdered sesame oil,
pepper, caramel pigment, silicon dioxide particulates (contains soybeans and sesame)
※Package may change without notice.