Pre-packaged Japanese New Year Dishes "HISHO" Deluxe Osechi Set of 33 food items (For 4-5people)
[
T81KM91091
]
Pre-packaged Japanese New Year Dishes "HISHO" Deluxe Osechi Set of 33 food items (For 4-5people)
[
T81KM91091
]
Our Selling Price: US$200.00(tax incl.)
Pre-packaged Japanese New Year Dishes
"HISHO" Deluxe Osechi
Set of 33 food items (For 4-5people)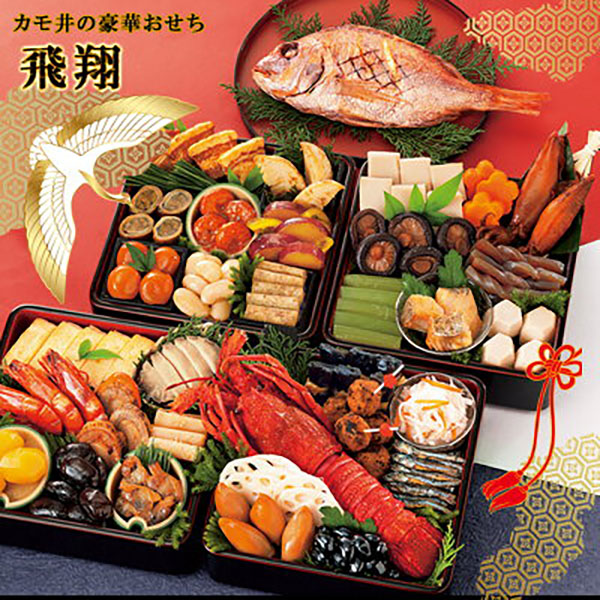 A Deluxe Set of "Osechi", Japanese New Year's Cuisine|
Produced by Kamoi, an Old-Established Food Manufacturer!
This set contains as many as 33 food items, so your whole family and your guests
can enjoy the special Japanese cuisine together!
You don't have to eat the whole set at a time
since each food items is separately packed.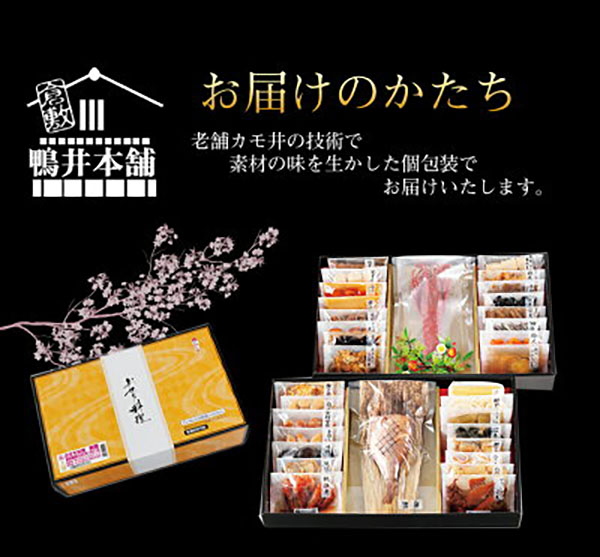 No additives are used!
You don't have to struggle to make room for this deluxe Osechi set in your fridge,
for it can be stored at room temperature!
―What is "Osechi"?―
Osechi is a traditional Japanese New Year's dish.
Japanese people prepare this meal before the New Year
so that women don't have to cook during the first 3 days of January.
Each food in Osechi has a special meaning and wish
(such as good luck, long life, good harvest…etc).
In Japan, people enjoy Osechi with their family and relatives and
celebrate the New Year.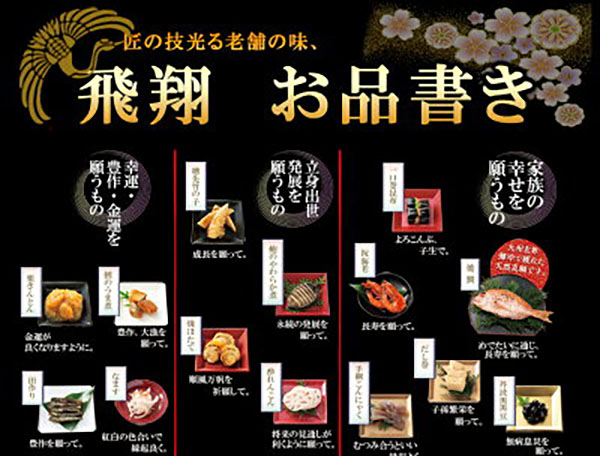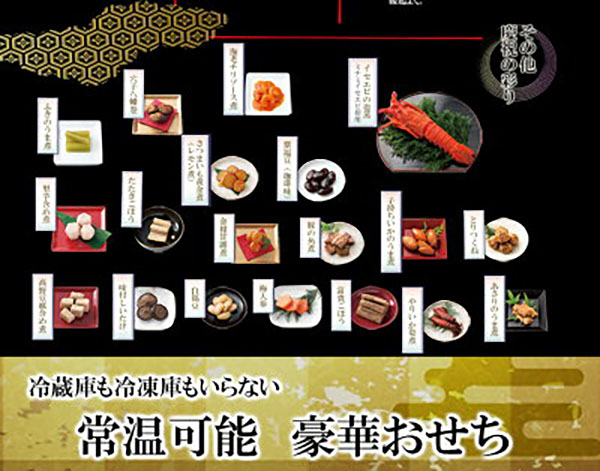 【Contents(33 dishes)】
→Candied and dried sardines, Black beans, Simmered butterbur scape,
Simmered taro, Boiled burdock (2 kinds), Simmered codfish,
Bite-sized simmered kelp, Candied Kumquat,
Mashed sweetened chestnuts, Seasoned shiitake mushrooms,
Boiled bamboo shoot, Pickled vegetables, Vinegar lotus root,
Rolled conger eel, Chicken meat balls, Grilled scallop,
Whole simmered spear squid, Simmered squid, Soy-braised pork,
Grilled sea bream, Simmered abalone, Japanese omelet, Simmered konjac,
Flower-shaped carrot, Simmered freeze-dried tofu, Steamed shrimp,
Whole steamed Japanese lobster, Grilled clams, White beans,
Shrimp with chili sauce, Purple beans(coffee-flavored),
Simmered Sweet potato with lemon.
<Expiry Date>
Jan.31, 2020 (Store at a room temperature before opening)
<Storage>
Store at a room temperature.
Keep away from direct sunshine and high temperature.
<Manufacturer>
Kamoi Foods Corp.
※IN ORDER TO DELIVER TO YOUR HOME BY THE END OF THE YEAR,
PLEASE COMPLETE PAYMENT BEFORE 2:00PM ON DECEMBER 4th, 2019. JPT.
 Also, please note that there's a possibility of a delay in delivery
due to flight delays, bad wheather conditions, or customs issues etc.
Please understand that we are not responsible
for the delay in any of those cases.
※The design of package may change without notice.