Japan Freeze Dried Survival Food OYAKODON Donburi Rice Bowl Dish X 4 Servings
[
T11F74557X4
]
Japan Freeze Dried Survival Food OYAKODON Donburi Rice Bowl Dish X 4 Servings
[
T11F74557X4
]
Our Selling Price: US$14.00(tax incl.)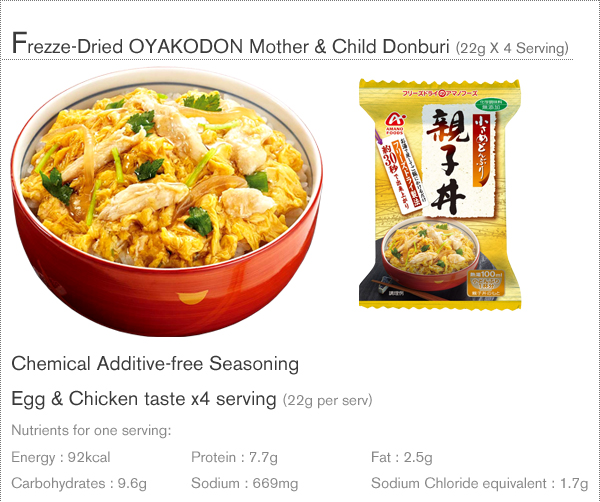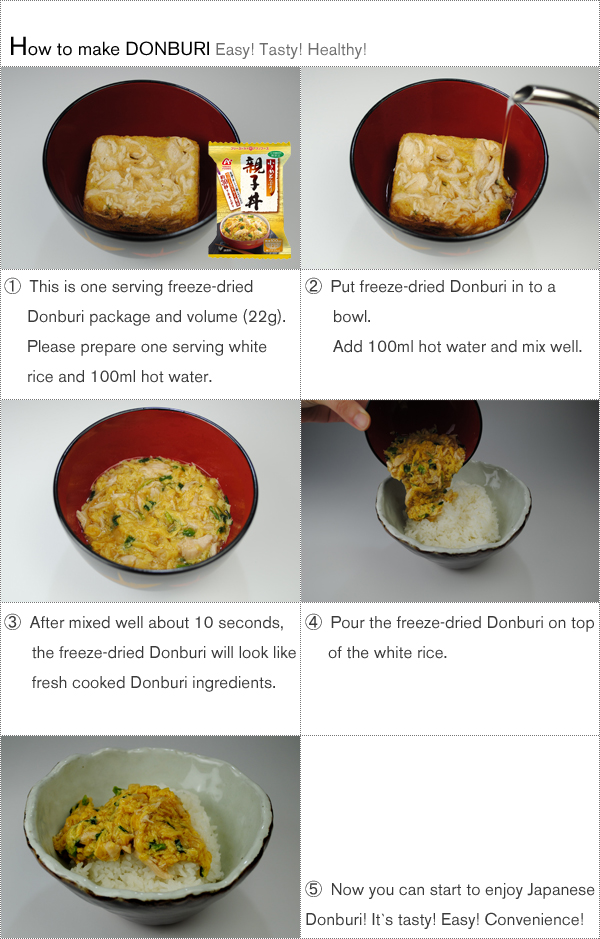 FOR EXCELLENT FLAVOR, NUTRITION, AND CONVENIENCE.
Wait for 10 seconds only after you pour the water! Easy, tasty and healthy

Donburi is a general term for "bowl". However, it also popularly refers to a bowl of cooked rice with some other food served on top of it. There exist a variety of donburi dishes, differing in their toppings.

Oyakodon (Oyako Donburi) / Mother and Child Donburi
The name of this popular donburi dish comes from its two main ingredients, chicken and egg. Very rarely, you may also encounter an Oyakodon featuring salmon and ikura (salmon eggs).
These products are attracting attention as health foods.
Excellent nutritional food source for family preparedness.
Easy and tasty
Very suitable for breakfast
Very filling, Better digestion
Deit food and easy to loss Weight
【Contents】
Japanese Frezze-Dried OYAKODON Mother & Child Donburi (22g X 4 Serving)
【Nutrients of one serving】
Energy : 92kcal
Protein : 7.7g
Fat : 2.5g
Carbohydrates : 9.6g
Sodium : 669mg
Sodium Chloride equivalent : 1.7g
【Ingredients】
Eggs, chicken, onion, soy sauce, mirin and reduce syrup, dried bonito extract, green onion, dextrin,seaweed extract, salt, sugar, yeast extract, dried bonito powder, Onion ekisupauda, spices, thickener (xanthan gum), pigment carotene antioxidants (vitamin E), (including some of the raw wheat)
【Expired Duration】