Japan Kyushu Hakata DARUMA Ramen Japanese Noodles Pork Bone Taste Soup × 3 Servings
[
T27F011868
]
Japan Kyushu Hakata DARUMA Ramen Japanese Noodles Pork Bone Taste Soup × 3 Servings
[
T27F011868
]
Our Selling Price: US$11.00(tax included)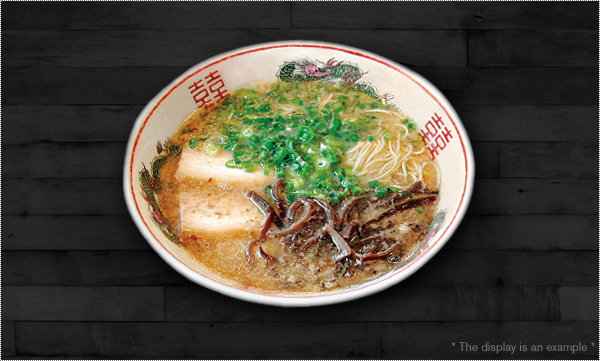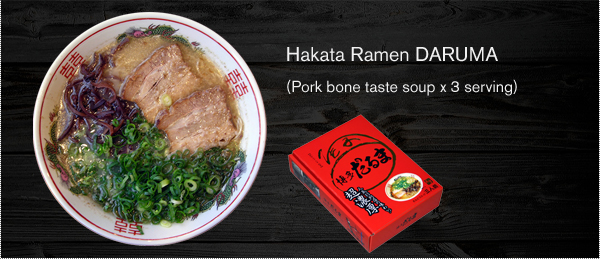 The original taste of Japan famous Ramen restaurants,
now you can taste it at HOME!
Pork Bone (Tonkotsu) Ramen usually has a cloudy white colored broth. It is similar to the Chinese baitang (白湯) and has a thick broth made from boiling pork bones, fat, and collagen over high heat for many hours, which suffuses the broth with a hearty pork flavor and a creamy consistency that rivals milk or melted butter or gravy (depending on the shop). Most shops, but not all, blend this pork broth with a small amount of chicken and vegetable stock and/or soy sauce.
Try the taste of a very popular restaurant! It's extremely rich!

The traditional taste has been kept since 1963.

The combination of the very thin noodles and the soup with generous amount of pork backfat is very traditional and well known as Hakata Ramen.

The Hakata Ramen restaurant always has a long line of fans waiting.
【Contents】
[Kyushu Hakata Ramen] Hakata DARUMA Ramen × 3 Servings
【Ingredients】
Noodle:
Wheat flour, starch, wheat protein, reducing starch syrup, salt, alcohol, kansui (alkaline solution)

Soup:
pork backfat, soy sauce, pork extract, pork paste, lard, reducing starch syrup, seasoning oil, salt, sugar, starch, alcohol, seasonings (amino acids etc.), emulsifier, caramel (food coloring)
【Volume】
Noddle: 100g × 3 packs
Soup: 75g × 3 packs
【Expired Duration】
90 days from the date of produce
【Packaging】
This product is packed in the box which is suitable for survenior / gift / present / or other special occation.