Long Term Storage Survival Foods / Emergency Foods : Freeze Dried Eggplants Miso Soup x 6 Servings
[
T11F76197X6
]
Long Term Storage Survival Foods / Emergency Foods : Freeze Dried Eggplants Miso Soup x 6 Servings
[
T11F76197X6
]
Our Selling Price: US$11.76(tax included)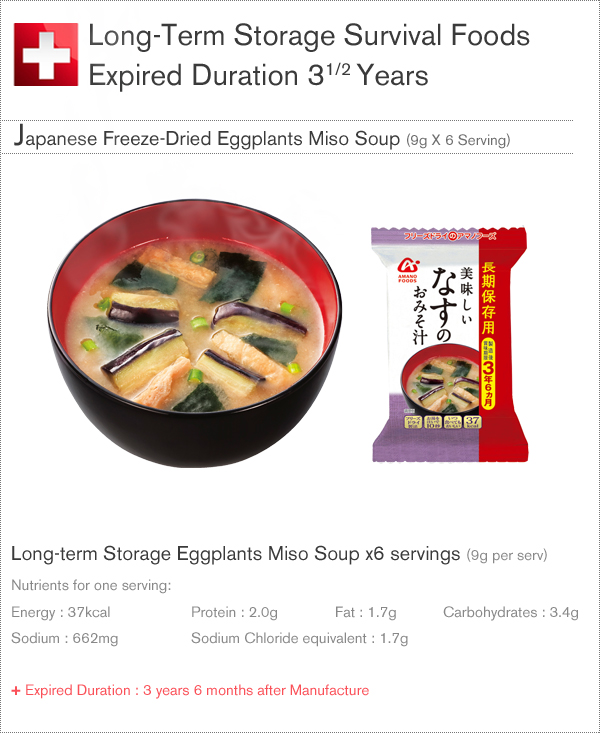 + FOR DISASTER SURVIVAL FOOD!
+ EXCELLENT FLAVOR, NUTRITION, AND CONVENIENCE.

Natural disasters are a reality that the entire world deals with including
hurricanes, floods, blizzards, and even simple short-term power outages.
It is important to be prepared in the kitchen.

Wait for 10 seconds only after you pour the water!

【Contents】
Japan Long Term Storage Survival Food :

Freeze Dried Eggplants Miso Soup X 6 Servings
【Nutrients of one serving】
Energy : 37kcal
Protein : 2.0g
Fat : 1.7g
Carbohydrates : 3.4g
Sodium : 662mg
Sodium Chloride equivalent : 1.7g
【Ingredients】
Rice miso (soy is not genetically modified), Eggplants, Formulation Miso (soy is not genetically modified), Green Onions, Vegetable oils, Deep fried tofu (soy is not genetically modified), flavored seasoning (dried bonito), Seaweed, Dextrin, Onion extract, Yeast extract, Kelp extract, Seasoings (Such as amino acids), Antioxidants (Vitamin E , Vitamin C), Acidulant, Citric acid, (Part of the raw material including Mackerel, Chicken and Seafood)
【Expired Duration】
【Net Weight】
9g x 6 packs (6 People feeds) in a box
【Manufacturer】
【Allergy】
※ Please note that the expiration date may become sooner depending on the length of storage and the date of shipment.

※ Please store in a cool place avoiding direct sunlight.