Bean thread noodle soup (called 'tai pi en', local speciality in Kumamoto Prefecture) Yuzu citrus pepper flavour 5serving
[
T81KD5441
]
Bean thread noodle soup (called 'tai pi en', local speciality in Kumamoto Prefecture) Yuzu citrus pepper flavour 5serving
[
T81KD5441
]
Our Selling Price: US$4.00(tax included)
Bean thread noodle soup
(called 'tai pi en', local speciality
in Kumamoto Prefecture)
Yuzu citrus pepper flavour 5servings
Low calorie bean thread noodle soup
In Kumamoto prefecture (located in southern Japan),
'tai pi en' bean thread noodle soup is served not only in Chinese restaurants,
but also at school lunch or at home.
This soup has been served in China in auspicious occasions,
and was brought by Chinese moved to Kumamoto in the late Meiji era
(about 130 years ago).
It is good for breakfast, lunch and snack.
It contains Yuzu citrus, Chinese white cabbages, sesames and leeks.
How to serve
1.Put soup and bean thread noodles into a mug.
2.Pour 160ml of hot water.
3.Leave it for 3monutes, and then stir it.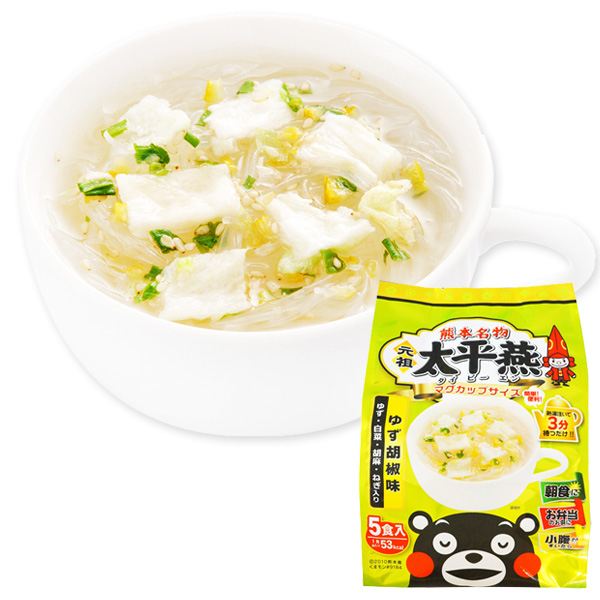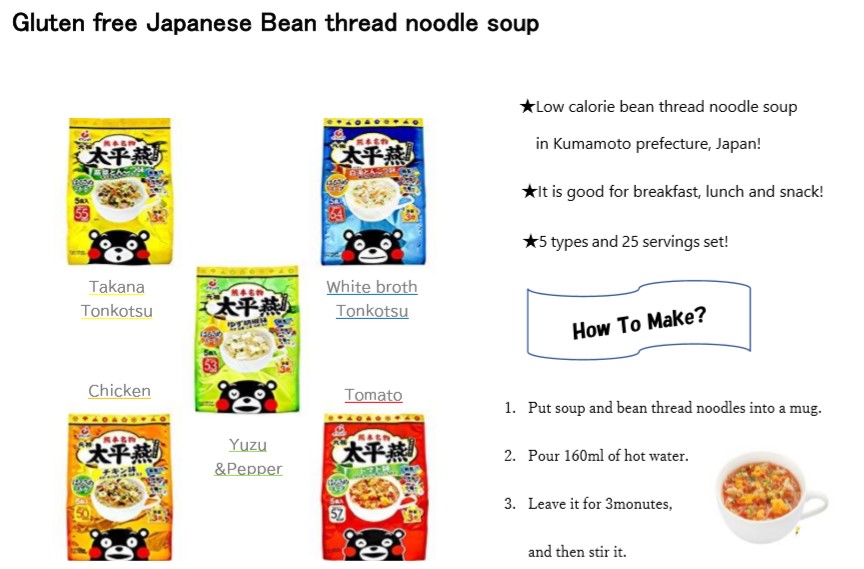 Ingredients:
Bean thread noodles (potato starch, mung bean starch), Suop powder 8salt, glucose, chicken extract powder, spices, dried yuzu citrus peels, soy sauce powder), Sesames, Chinese white cabbages, Leeks, Seasonings (amino acids), Colour agents, Acidic ingredients
(contains wheat or soy beans in ingredients)
Net weight:
16.8g (soup 6.8g, bean thread noodles 10g) x5 servings
Expiry: 10 months
Storage: Keep away from high temperature. Store in cool and dark place.
Manufacturer: Ikeda Foods
Nutrition fact (per 1 serving)
Calories: 53kcal
Protein: 0.9g
Fat: 0.6g
Carbohydrate: 11.0g
Sodium: 977mg
*Package may be changed.
| | |
| --- | --- |
| Weight | 16.8g (soup 6.8g, bean thread noodles 10g) x5 servings |
| Piece | 1 piece |
| content Piece | 5 servings |