Organic Germinated Brown Rice Ball with Red Perilla 90gx2
[
T49F413
]
Organic Germinated Brown Rice Ball with Red Perilla 90gx2
[
T49F413
]
Our Selling Price: US$4.00(tax included)
Organic Germinated Brown Rice Ball
with Red Perilla 90gx2
Can be stored for a quite while
Expiry is 1year!
Suitable for food in emergency.
It is made of 100% organic Japanese germinated brown rice.
Freshly steamed rice balls were packed for long storage.
Mixed with red perilla powder produced in Wakayama Prefecture.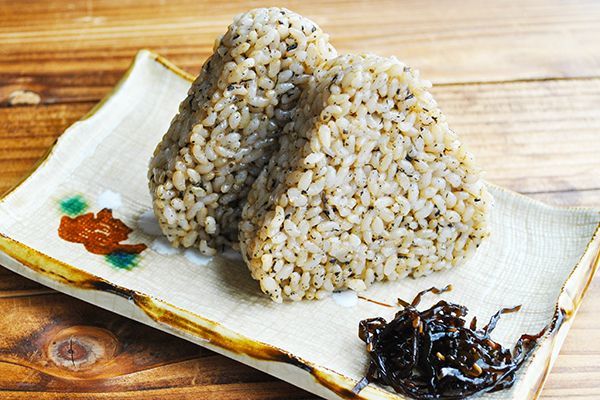 Direction
By microwave (500W):
Remove the film lid or pierce the lid, then cook for 1minute for 1 rice ball.
(2 minutes for 2 rice balls)
By boiled water:
Put into boiled water with facing down the lid,
then keep boiling for 10 minutes with middle heat.
Name: Retort packed rice (germinated brown rice with red perilla)
Ingredients: Organic brown rice (from Japan), Red Perilla, Salt
Sterilization method: Sealed in airtight package, then put heat and pressure on them.
Net weight: 180g (90gx2)
Expiry: 1year
Storage: Keep away from sunshine, store in room temperature
Manufacturer: Kojima Foods Co Ltd.
Nutrition fact (per 90g, 1 rice ball)
Calories: 131kcal
Protein: 2.8g
Fat: 1.0g
Carbohydrate: 27.8g
Sodium: 271mg