【Chemicla Additive-Free Seasoning】 Freeze Dried Survival Food Japan Brown Seaweed Soup X 10 Servings
[
T11F72065X10
]
【Chemicla Additive-Free Seasoning】 Freeze Dried Survival Food Japan Brown Seaweed Soup X 10 Servings
[
T11F72065X10
]
Our Selling Price: US$13.20(tax included)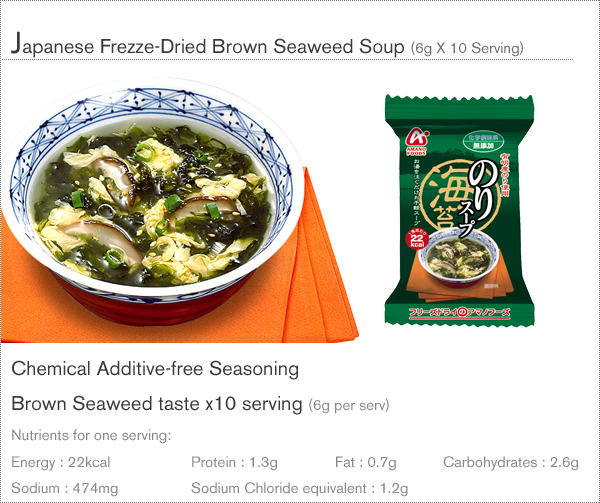 FOR EXCELLENT FLAVOR, NUTRITION, AND CONVENIENCE.
Wait for 10 seconds only after you pour the water! Easy, tasty and healthy

Seaweed offer the broadest range of minerals of any food and are an excellent source of the B-vitamin folate, and magnesium, as well as a great source of iron, calcium, and the B-vitamins riboflavin and pantothenic acid. Seaweed contains significant amounts of lignans, which are plant compounds with cancer-protective properties.
Seaweed is one of the greatest health secrets - a true "super food".
This may seem surprising - that such a humble and common class of plants could offer us very much in terms of health. But seaweed health benefits have been known for a long time - and modern science is revealing more and more about this super-food. The fact is seaweed is packed full of much-needed vitamins and minerals, including some relatively rare trace elements.
These products are attracting attention as health foods.
Excellent nutritional food source for family preparedness.
Easy and tasty
Very suitable for breakfast
Very filling, Better digestion
Deit food and easy to loss Weight
【Contents】
(1)

Japanese Frezze-Dried Chemical Additive-free Brown Seaweed Soup (6g X 10 Servings)
【Nutrients of one serving】
Energy : 22kcal
Protein : 1.3g
Fat : 0.7g
Carbohydrates : 2.6g
Sodium : 474mg
Sodium Chloride equivalent : 1.2g
【Ingredients】
Eggs, onions, mushrooms, seaweed, sesame antioxidants (vitamin E)), soy sauce, syrup reduction, fish extract, mirin, salt, dextrin, seaweed extract, yeast extract, mushroom extract, (some of the raw wheat, including mackerel)
【Expired Duration】