Japanese natural and clean face wash Rice Bran Enzyme Makeup Remover 85g
[
T72B10158
]
Japanese natural and clean face wash Rice Bran Enzyme Makeup Remover 85g
[
T72B10158
]
Our Selling Price: US$21.00(tax included)
Japanese natural and clean face wash
health and beauty care Rice Bran Enzyme
Makeup Remover
Rice bran & wheat bran are the only ingredients!
This is one and only, 100% additive-free face wash!
Remove Your Makeup with Rice Bran Enzyme!
This face wash is 100% additive-free!
The only ingredients are rice bran and wheat bran,
but the cleansing quality is incredibly high!
But don't worry about the skin damage.
This face wash is very gentle to your skin,
while it removes dirt or makeup very, very well.
It's 100% made of natural ingredients,
so it's very friendly to the global environment as well!
The more you use this face wash, the more you can contribute to the earth!
The intestinal flora in your stomach
needs to be in good balance to stay healthy.
The same thing can be said to
the resident microbiota in your skin.
Have you heard of 'intestinal flora'? It's said that you can stay healthy
as long as the bacteria in your guts are in good balance.
The resident bacteria also exist in your skin,
and they actually keep your skin healthy.
But once you use face wash or cosmetics you
buy at stores nearby, the balance becomes bad,
and it may cause the skin trouble eventually.
In order to restore the healthy skin,
it's essential to keep the balance of the bacteria in your skin.
---------------------------------------------------------------------------------------------------------
Rice Bran, the Ancient Wisdom.
Actually, rice bran itself used to be a great cosmetic for people.
Thanks to recent researches, lots of beneficial ingredients
to the skin have been found in rice bran.
For example, Vitamin B2 and Vitamin E are well contained in rice bran,
and they effectively speed up the skin cell turnover to vitalize the skin.
Ceramide, which moisturizes the skin very well, is also contained in rice bran.
5 Beneficial Ingredients Contained in Rice Bran
1. Ceramide
This is one of intercellular lipids that are naturally contained in the skin,
and it has a great moisturizing effect.
Ceramide is also considered effective to relieve the skin irritation of atopic patients.
2. Vitamin B2
It improves metabolism and blood circulation.
It's an essential kind of vitamin in order to maintain the beautiful skin
because once you are short of Vitamin B2, melanin pigmentation occurs,
and freckles appear on the skin eventually.
3. Vitamin E
Vitamin E has an antioxidant ability and anti-aging effects.
It prevents the skin from being damaged
by active oxygen generated from ultraviolet rays,
and also protects the skin from sunburn.
4. Phosphorus
It speeds up cell division of the skin, and improves metabolism of the skin.
It can be the source of vitality of the skin.
5. Potassium
It controls the moisture balance of the skin.
It enables you to bring back the bouncy skin.
100% Additive-free! Rice Bran Enzyme Makeup Remover
Rice bran & wheat bran are the only ingredients! This is one and only,
100% additive-free face wash!
Rice bran & wheat bran are the only ingredients! This is one and only,
100% additive-free face wash! Thanks to enzyme produced by beneficial bacteria,
this face wash has a much higher washing ability
than conventional synthesized surfactant soaps.
Also, it's very safe because it's 100% additive-free.
Apply some on your palm, and add a little water to make paste.
You don't need to double-cleanse your face.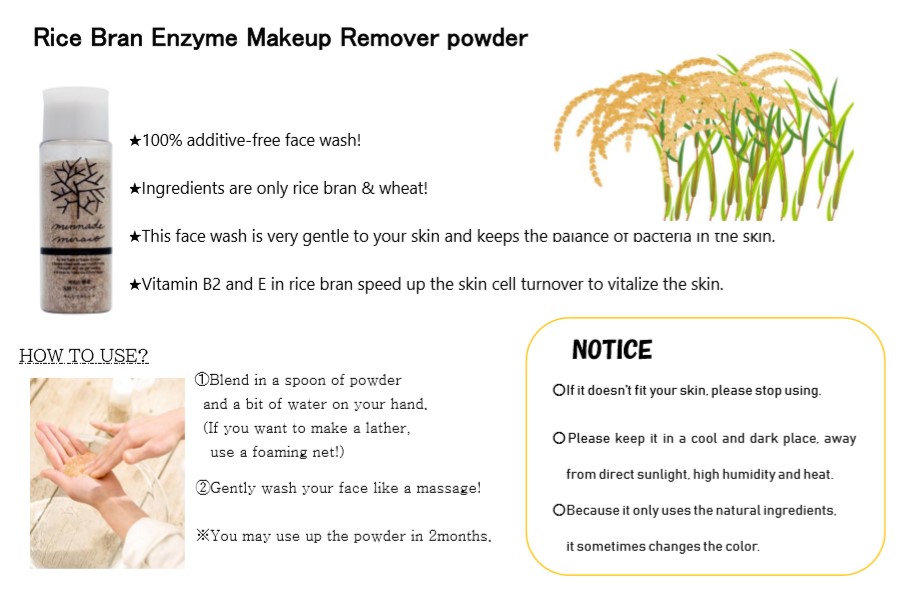 [FAQs]
Q: How much Rice Bran Enzyme Makeup Remover do I use at one time?
A: One tablespoon is good, but it depends on the condition of your skin.
You can use less if your face is already not very dirty,
or if you don't want much sebum to be removed.
Q: Does it make lots of foam?
A: Not really. But you can make a lot of foam when you use a foaming net.
Actually, the washing ability has nothing to do with how much foam it makes.
Q: How many times can I wash my face with one bottle of this face wash?
A: It may vary depending on the amount you use at one time,
but it can last for about 2 months.
Product Name

100% Additive-free Rice Bran Enzyme Makeup Remover

Net Weight

85g

Storage Method

Store in a cool and dark place away from heat and moisture.

Keep out of baby's reach.

Country of Origin

Made in Japan
Ingredients: rice bran, wheat bran
The package design may change without notice.
Other Rice Bran Skin care product
< The Order / Sample Request Timeline >
The timeline below shows what will happen if you are interested in our products.
STEP1:Contact
Please feel free to contact us by email.Office hour 10:00 - 17:00 Japan time.
We are off on Saturday , Sunday and national holiday.
Step2:Contact / Negotiation
We can send free sample.Please ask for samples.
Please feel free to ask anything.
Step3:Order / Payment
Our term of payment method is paypal in advance.
Step4:Shipping
We use EMS or SAL basically.
Please ask for other methods if necessary.
When shipping your order , we will contact you shiping number.
Step5:Completion of delivery
We are confident that you will be satisfied with our products.
Step6:Repeat order
I look forward to establishing a business relationship with your company.
And we pray for the prosperity of your business.
<Shipping record>
| | | | | |
| --- | --- | --- | --- | --- |
| China | Viet Nam | Sri Lanka | Thailand | India |
| Hong Kong | Singapore | Taiwan | Arab Emirates | New Zealand |
| United States | Canada | Guam | Panama | UnitedKingdom |
| Germany | Denmark | Italy | France | Finland |
| Switzerland | Austria | Australia | Luxembourg | Netherlands |
| Sweden | Spain | Norway | Russian | Belgium |
| Poland | Ukraine | Lithuania | Croatia | Ireland |
| Philippines | Israel | | | |