Best-selling Made in Japan, 100% Natural Ingredients Rice Bran Oil 30ml
[
T59H71873
]
Best-selling Made in Japan, 100% Natural Ingredients Rice Bran Oil 30ml
[
T59H71873
]
Our Selling Price: US$18.00(tax included)
Best-selling Made in Japan,
100% Natural Ingredients Rice Bran Oil 30ml
'Junmai-Plus' Oil Moisturizer
100% Natural Ingredients of Plant Origin
Rice Oil made with Squalane
Rice oil and rice bran oil are blended in 'Rice Blend Squalane',
a special mixture of rice squalane and plant squalene.
It's quick-absorbing and lightweight!
You will literally feel the blessings of rice oil after use.
Fragrance-free,
no coloring pigments,
no mineral oil,
no preservatives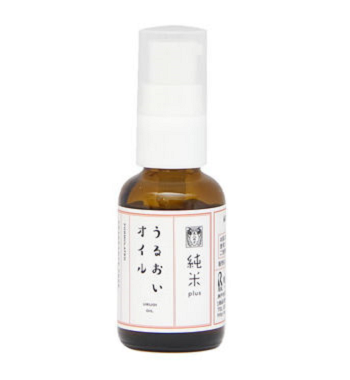 Apply a few drops to palm of hands and gently press onto face or hair.
Natural and safe! This rice oil made from 100% natural ingredients can be used
by everyone in your family, even a small kid.
It's absorbed deep into the skin to make the skin
even softer and a lot more moisturized.
- To moisturize dry skin, apply the oil after bath.
- For flaky heels and dry hands, apply the oil
and wear socks or gloves over night for better effects.
- For the skin around eyes and mouth, overlay the oil if necessary.
- Use the oil as a remedy for damaged or static hair.
It's effective to apply the oil after taking a shower or before going out.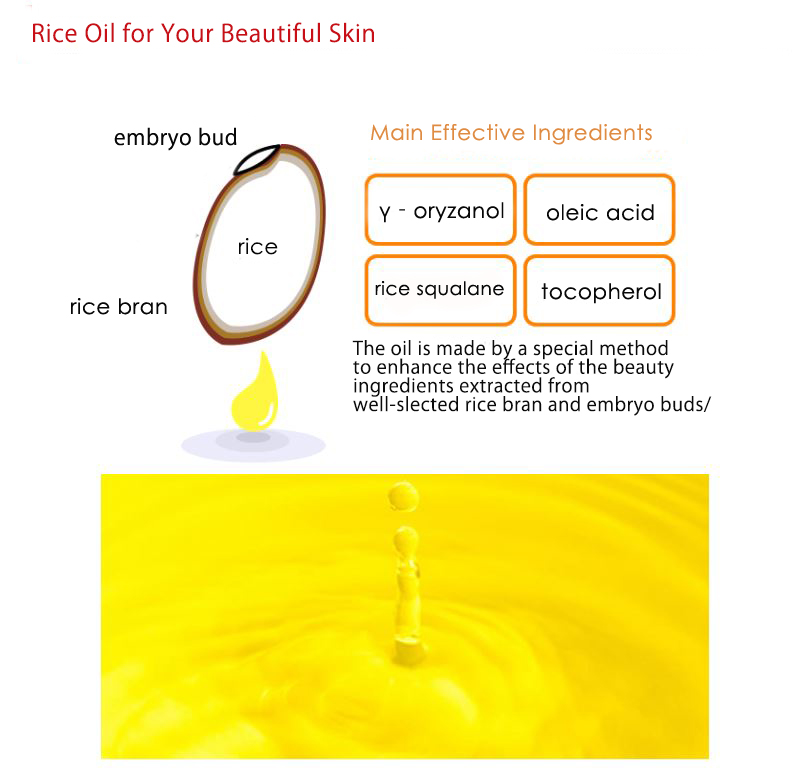 Rice bran has been a very traditional item for Japanese skincare.
Japanese women's beautiful, velvety skin has been protected by rice bran for centuries.
The oil oriented from rice bran is 'The Oil of Beauty',
that contains γ-oryzanol which makes the skin elastic and radiant,
and oleic acid which is originally contained in sebum.
Plant squalene and rice squalene of rice bran origin are
uniquely blended to be the main ingredients of this oil.
Rice squalene is an extremely rare ingredient,
for only 4g (0.0004%) of rice squalane can be extracted
from as much as 1 ton of whole rice grain.
Squalane is originally contained in our skin,
and it's a necessary component to keep our skin moisturized.
And it's believed that squalene in the skin gets less and less as skin ages.
Squalane is a very critical factor for the skin to protect the skin
from damages such as dryness etc. by creating a barrier on the skin surface
when it's mixed with sweat and sebum.
The main ingredient of Junmai-Plus is squalane, so it's not greasy,
and it easily and effectively absorbs into the skin to make it healthier and more radiant.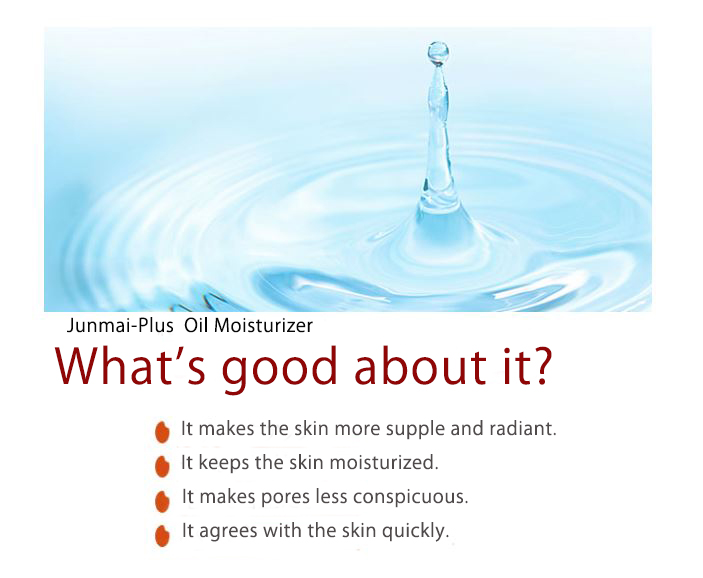 Ingredients:
squalane, rice embryo oil, rice bran oil, tocopherol
Instruction for Use
- Please see carefully how your skin reacts after use.
- Do not use when you have skin problems such as a scratch or a rash etc.
- When any problems such as red skin, irritations, white spots,
darkening of the skin appear, or when the similar symptoms appear
after getting sunshine, please stop using,
and talk to your doctor if necessary.
- When the oil gets in your eyes, wash it off immediately.
- Keep out of reach of young children.
- Please do not store in extremely hot or cold places.
Store it away from the direct sunlight.
- To maintain the quality, do not put the oil back
in the container once you take some out.
- Screw the cap back on after each time use.