YOMEISYU Medicinal Cuisine Series Rice Porridge with 5 Nutritious Ingredients <Yellow>
[
T81YM1307
]
YOMEISYU Medicinal Cuisine Series Rice Porridge with 5 Nutritious Ingredients <Yellow>
[
T81YM1307
]
Our Selling Price: US$2.76(tax included)
YOMEISYU Medicinal Cuisine Series
Rice Porridge with 5 Nutritious Ingredients
<Yellow>
Low Calories 80kcal!
No Chemical Seasonings!
○Healthy rice porridge with Japanese and Chinese ingredients and plenty of vegetables
○Mild taste of Japanese stock with a millet and pumpkin will even make your heart warm.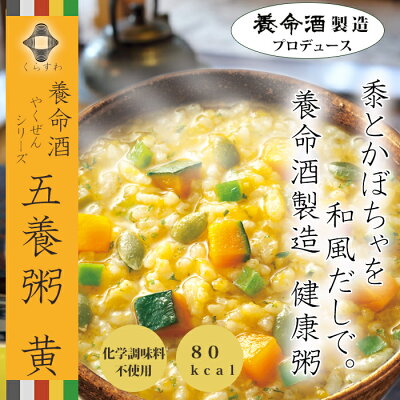 <Features of Product>
●Taste and Colors
 …Appetizing Japanese stock with a millet and pumpkin
…In the soup with yellow color of millet and pumpkin, green pepper and pumpkin seeds
are coloring freshly.
●Enjoy the medicinal rice porridge at home
…You just put the product in the bowl, pour the boiled water(140ml) and then stir it.
●Good recipe for building up bone and muscle based on "Wu Xing"
(five-element theory of Chinese philosophy)
…Pumpkin seeds have plenty of vitamins( known as "rejuvenating vitamin") and
omega-3 fatty acid (which decreases the neutral fat).
…Coumarin in parsley can improve the blood flow, and avoid
the Cerebral infarction and Heart infarction.
…Not only the functional aspect, but the quality of the vegetables and crude drugs
is very high. And the rice as main raw material must be made in Japan.
※Any chemical seasonings aren't used.
What is "Wu Xing"?
"Wu Xing" is an ancient Chinese philosophy. It is said that everything in the world originally consists of 5 elements ( Jupiter, Saturn, Mercury, Mars, Venus).
If you keep those elements in well balance, you can live a healthy life.
This is a principle of all things in universe, and is also a foundation of oriental medicine
and feng shui.
With the freeze-drying method, you can take in the Japanese and Chinese ingredients
and fresh vegetables easily and deliciously.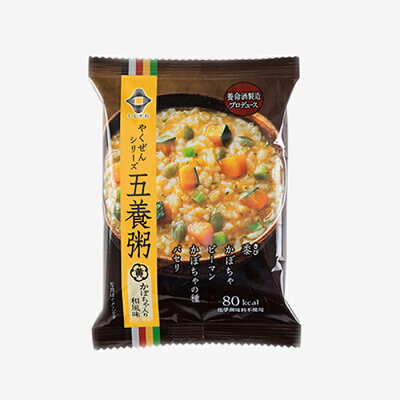 <Direction>
Pour the boiled water(140ml) and then stir it.
<Ingredients>
White rice(made in Japan), Pasted pumpkin, Pumpkin, Green pepper. Pumpkin seeds,
Glutinous millet, Sodium, Starch, Powdered dried bonito extract, Yeast extract, Protein Hydrolysate, Parsley, Antioxidant(V.E), (Contains pork)
Net Weight: 19.9g
Expiry: 18months from manufactured
Manufacturer: Youmeishu Co., Ltd
※Package may change without notice.