Instant Kuki-Wakame Seaweed Soup with Rosy Seabass (Nodoguro) Broth (15 servings)
[
T81UN0999
]
Instant Kuki-Wakame Seaweed Soup with Rosy Seabass (Nodoguro) Broth (15 servings)
[
T81UN0999
]
Our Selling Price: US$5.00(tax included)
Instant Kuki-Wakame Seaweed Soup
with Rosy Seabass (Nodoguro) Broth
15 servings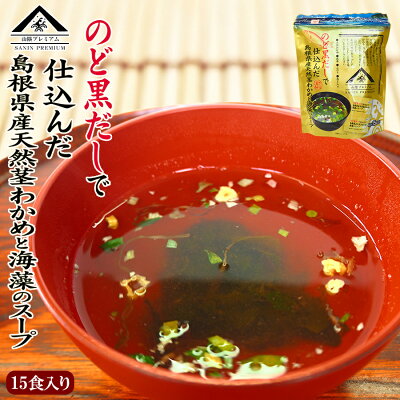 Enjoy rich flavour of Nodoguro and seaweed!
*Manufacturer: Uonoya*
Uonoya, literally means 'fish shop' in Japanese, started its business in 1877
as a fisheries producing company. It has been manufacturing product
with high-quality local seafood since established, and gained popularity by providing
tasty quality home food.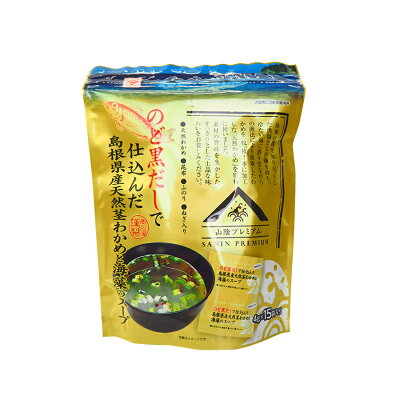 Cooked wakame seaweed, hand-picked by skilled fishermen,
with local seabass (aka nodoguro in Japan) broth.
Enjoy natural rich flavour!
Nutrition fact (per one serving)
Calories: 9kcal
Protein: 0.4g
Fat: 0g
Carbohydrate: 1.8g
Sodium: 1.4g
Name: Instant soup
Expiry: 180days
Storage: Store in room temperature. Avoid direct sunshine.
Manufacturer: Uonoya
Ingredients: Salt, Yeast extract, Glucose, Dextrin, Hydrolyzed protein
(including wheat, soy bean, pork), Condiments (Wakame seaweed, Kombu seaweed,
Funori seaweed, Leak), Dried bonito powder, Kombu seaweed powder,
Seabass powder, Sugar, Shiitake mushroom powder
*Package may change without notice.
Category: Instant, San-in premium, Kuki wakame, Nodoguro seabass, seaweed soup