Instant Kuki-Wakame Seaweed Soup with Flying Fish Broth (15 servings)
[
T81UN1000
]
Instant Kuki-Wakame Seaweed Soup with Flying Fish Broth (15 servings)
[
T81UN1000
]
Our Selling Price: US$5.00(tax incl.)
Instant Kuki-Wakame Seaweed Soup
with Flying Fish Broth (15 servings)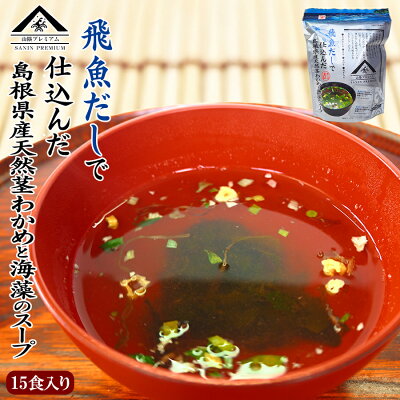 Enjoy rich flavour of flying fish and seaweed!
*Manufacturer: Uonoya*
Uonoya, literally means 'fish shop' in Japanese, started its business in 1877
as a fisheries producing company.
It has been manufacturing product with high-quality local seafood since established,
and gained popularity by providing tasty quality home food.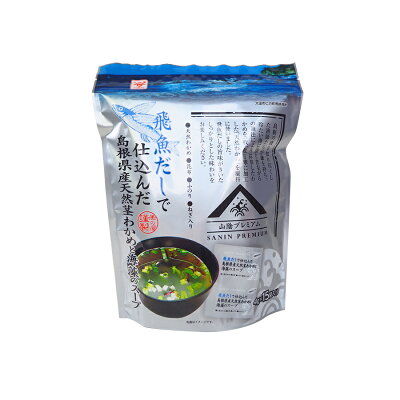 Cooked wakame seaweed, hand-picked by skilled fishermen, with local flying fish broth.
In Japan, flying fish broth is often called 'ago dashi', and has clear but rich flavour.
Nutrition fact (per 1 serving)
Calories: 9kcal
Protein: 0.4g
Fat: 0g
Carbohydrate: 1.7g
Sodium: 1.4g
Name: Instant soup
Expiry: 180days
Storage: Store in room temperature. Avoid direct sunshine.
Manufacturer: Uonoya
Ingredients: Salt, Yeast extract, Glucose, Dextrin, Hydrolyzed protein (including wheat, soy bean, pork),
Condiments (Wakame seaweed (from Shimane Prefecture, Japan) , Gagome Kombu seaweed (from Hokkaido, Japan),
Funori seaweed (from Japan), Leak(from Japan)), Dried bonito powder, Kombu seaweed powder,
Flying fish powder, Sugar, Shiitake mushroom powder
*Package may change without notice.
Category: Instant, San-in premium, Flying fish tobiuo, Kuki wakame, seaweed soup