Salad Chicken Black pepper & Garlic Flavour
[
T65UC10033
]
Salad Chicken Black pepper & Garlic Flavour
[
T65UC10033
]
Our Selling Price: US$3.24(tax incl.)
Salad Chicken Black pepper
&
Garlic Flavour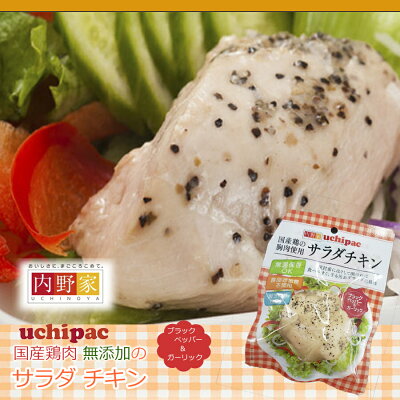 No food additives/preservatives. Cooked chicken breast
grown in Japan, and flavoured with spicy black pepper and garlic.
Storable in room temperature for a year from production date.
What makes this product great?
- Cooked chicken breast grown in Japan
- No food additives /preservatives
- Storable in room temperature, good for camping or outdoor activities
- Genuine chicken flavour and texture
- Cooked in Japan
- Juicy and full of flavour
- Blessed with protein
- Good for the one who is on diet
- Good for low-carb diet
- Easy for preparation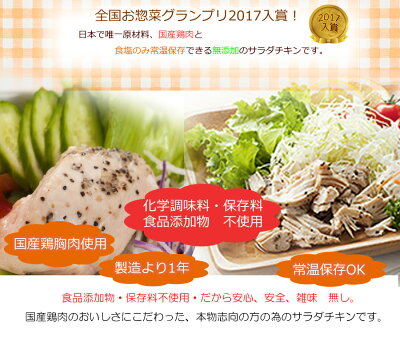 Cooked with secret special method to maximize
flavour and nutrition while avoiding being soggy.
Spicy black pepper and garlic match with natural chicken flavour so well.
You can use this not only for salad, but for sandwich,
appetizer for alcohol drink, etc.
*Before you open the package, knead the chicken to make
chicken flavour juice beck to the meat. Also it makes meat tender.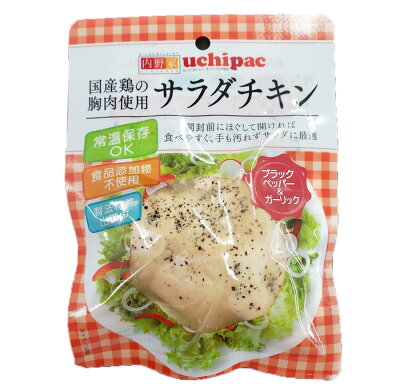 Nutrition fact
Calories: 151kcal
Protein: 30.1g
Fat: 2.5g
Carbohydrate: 0.4g
Sodium: 99mg
*allergen: chicken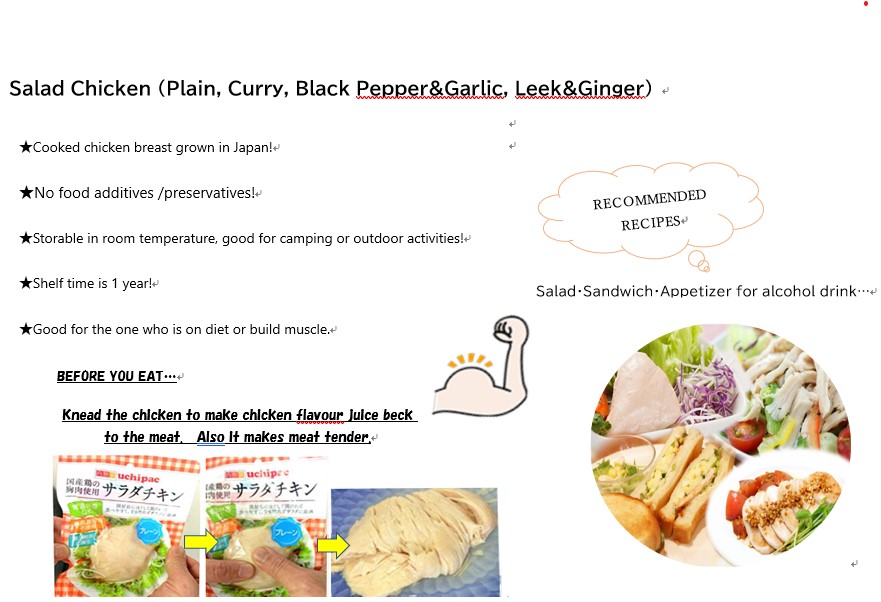 Name: Salad Chicken Black pepper & Garlic Flavour
Ingredients: Chicken (from Japan), Black pepper (from Malaysia), Garlic (from Japan), salt (from Japan)
Storage: Avoid sunshine, Store in room temperature
Sterilization: Put in airproof container, add pressure and heat
Expiry: 1 year (unopened) Keep refrigerated after opening the package,
and consume on the day.
Manufacturer: Uchino
*Package may change without notice.
*Consume as soon as possible after opening the package.
Category: salad chicken, black pepper, garlic, grown in Japan,
no additives, No MSG, low-carb diet