Freeze-dried Miso Soup with Wakame seaweed and Fried thin tofu 'Miso soup from my home' by Amano Foods
[
T11F20816
]
Freeze-dried Miso Soup with Wakame seaweed and Fried thin tofu 'Miso soup from my home' by Amano Foods
[
T11F20816
]
Our Selling Price: US$3.50(tax incl.)
Freeze-dried Miso Soup with
Wakame seaweed and Fried thin tofu
'Miso soup from my home' by Amano Foods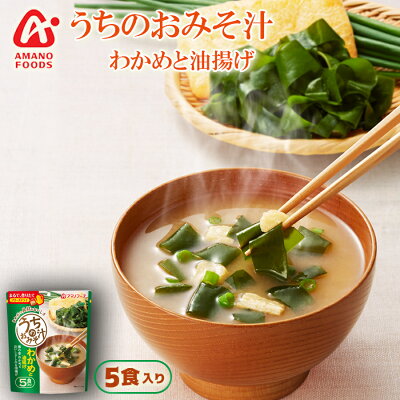 Easy and convenient! Good for Japanese-style breakfast,
or lunchtime at office. Stock up for emergency or daily use.
Mixed with simple-taste miso and sweet one for great harmony
with wakame and fried tofu. Broth from bonito and kombu seaweed
makes miso soup mild. Enjoy homey mild miso soup!
*What is freeze-dry?*
Freeze-dry is a method to keep food longer and fresh.
Freeze cooked food quickly, then dry it in highly vacuumed status.
As liquid is taken well in this method, it makes easier to hold its shape,
and to be back to its shape when water or hot water is added.
Also freeze-dry enable food to keep its nutrition, color and flavour.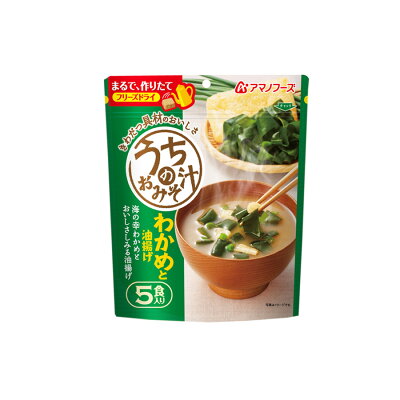 *That's why freeze-dried soup is good for…
- At office: Lunchtime, Night snack for overtime, business trip
- For outdoor activity: Camping, Picnic, etc.
- At home: Add to breakfast/dinner
*Just pour hot water and stir it! You can enjoy tasty miso soup quickly!
Name: Instant miso soup (freeze dry) 'Miso soup from my home'
Ingredients: Ingredients: Rice miso, Wakame seaweed,
Mixed miso, Fried thin tofu, Leek, flavour seasonings (bonito), Starch,
Dextrin, Gelatin, Kombu seaweed powder, Sugar, Dried bonito powder,
Seasonings, Antioxidant, Acidulant (including mackerel, soy bean,
gelatin and fish sauce in the ingredients)
Net weight: 33.0g
Expiry: 1year
Storage: In room temperature
Manufacturer: Amano Jitsugyo Co. Ltd.
*The factories for this product also produces food containing shrimp,
crab, wheat, milk.
Nutrition fact (per 1 serving)
Calories: 33kcal
Protein: 2.0g
Fat: 1.4g
Carbohydrate: 3.2g
Sodium: 665mg
*Package may change without notice.
Category: Amano foods, Freeze-dry, miso soup, instant outdoor, camp
Freeze-dried Miso Soup with Wakame seaweed and Fried thin tofu