Freeze-dried Low Sodium Miso Soup with Vegetable (5 servings) by Amano Foods
[
T11F20876
]
Freeze-dried Low Sodium Miso Soup with Vegetable (5 servings) by Amano Foods
[
T11F20876
]
Our Selling Price: US$3.50(tax included)
Freeze-dried Low Sodium Miso Soup
with Vegetable (5 servings) by Amano Foods
Easy and convenient! Good for Japanese-style breakfast, or lunchtime.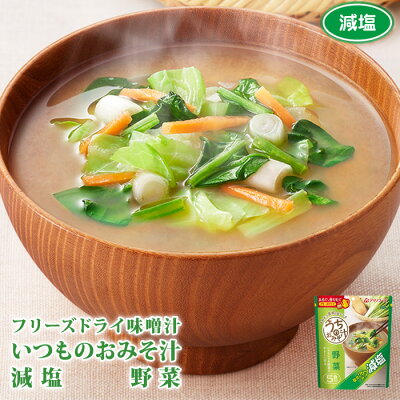 *Why freeze-dried?*
1. Keep taste fresh so you can enjoy great taste anytime.
2. Keep nutrition well.
3. Easy to prepare; just pour hot water!
4. Handy for outdoor activities or lunch at office
Low-sodium mild-tasted miso soup for supporting healthy habit.
5 portions of soup in one package: you can share with family, friends, etc.
Mixed with simple-taste miso and sweet one for great harmony with vegetables.
Broth from bonito, shiitake mushroom and kombu seaweed
makes miso soup mild. Enjoy homey mild miso soup!
25% less sodium per serving compare with our regular miso soup.
Good for those who care sodium for health concern.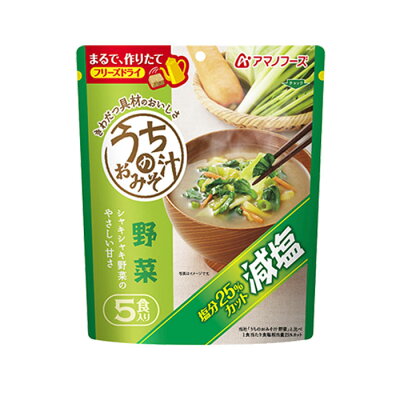 *Direction*
1. Put miso soup into a bowl or mug cup.
2. Pour 160ml of hot water on it.
3. Stir it, and enjoy!
Name: Instant Miso Soup (Freeze-dried)
Ingredients: Rice miso, Spinach, Cabbage. Dextrin, Leek, Carrot, Flavour seasonings, Mirin, Starch, Yeast extract powder, White cabbage extract powder, Dried bonito powder, Kombu seaweed powder, Onion extract powder, Shiitake mushroom powder, Seasonings (Amino acid), Antioxidant (Vitamin E, Vitamin C), Acidulant, Caramel colouring (Containing mackerel, soy bean, chicken, fish sauce in the ingredients)
Net weight: 37.0g (5 servings)
Expiry: 1 year from manufactured date
Storage: Avoid high temperature and humidity. Keep in room temperature.
Manufacturer: Amano Jitsugyo Co. Ltd.
Nutrition fact (per 1 serving)
Calories: 26kcal
Protein: 1.2g
Fat: 0.45g
Carbohydrate: 4.4g
Sodium: 1.0g
*Package may change without notice.
Category: Freeze-dried food, amano foods, miso soup, instant,
food for emergency. Low sodium