Freeze-dried Red Miso Soup with Pholiota Nameko Mushroom 'Miso soup from my home' by Amano Foods
[
T11F77742
]
Freeze-dried Red Miso Soup with Pholiota Nameko Mushroom 'Miso soup from my home' by Amano Foods
[
T11F77742
]
Our Selling Price: US$3.50(tax incl.)
Freeze-dried Red Miso Soup
with Pholiota Nameko Mushroom
'Miso soup from my home' by Amano Foods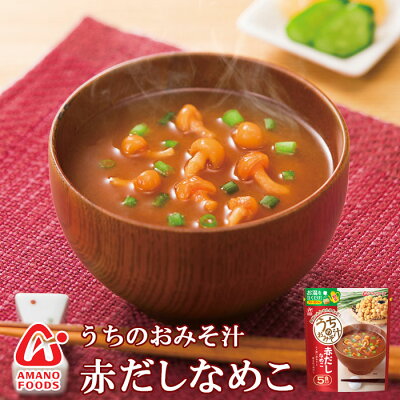 Easy and convenient! Good for Japanese-style breakfast, or lunchtime at office.
Stock up for emergency or daily use.
Selected red miso paste for the best match with pholiota nameko mushrooms.
Bonito broth makes this soup's flavour richer.
Enjoy great taste of nameko and miso flavour!
5 portions in a pouch. You can share with families, colleagues or friend.
*Direction*
1. Put miso soup into a bowl or mug cup.
2. Pour 160ml of hot water on it.
3. Stir it, and enjoy!
Name: Instant miso soup (Freeze-dried)
Ingredients: Pholiota nameko mushroom, Mixed miso paste,
flavour seasonings (bonito), Soy sauce, Dextrin, Seasonings,
Caramel color, Antioxidant, Acidulant
(including wheat, mackerel, and fish in the ingredients)
Net weight: 32.5g (5 servings)
Expiry: 1year
Storage: In room temperature
Manufacturer: Amano Jitsugyo Co. Ltd.
Nutrition fact (per 1 serving)
Calories: 21kcal
Protein: 1.6g
Fat: 0.2g
Carbohydrate: 3.1g
Sodium: 505mg
*Allergen: wheat
Great accompany in your daily life like;
- Convenient small portion for living your own
- Lunch time at office
- Emergency food
- Outdoors and camping
- Travelling
- Night snack
*Package may change without notice.
Category: Amano foods, Freeze-dry, miso soup, instant outdoor, camp