Freeze-dried Low Sodium Egg Soup (5 servings) 'Soup of the Day' by Amano Foods
[
T11F79046
]
Freeze-dried Low Sodium Egg Soup (5 servings) 'Soup of the Day' by Amano Foods
[
T11F79046
]
Our Selling Price: US$3.50(tax incl.)
Freeze-dried Low Sodium Egg Soup
(5 servings) 'Soup of the Day'
by Amano Foods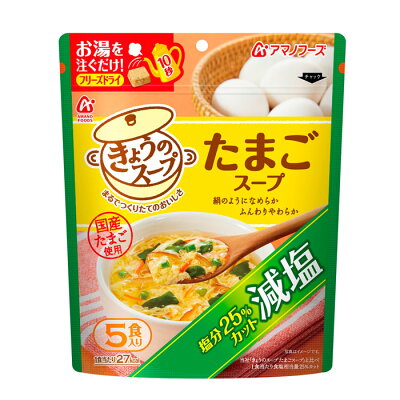 25% less sodium compared with our regular egg soup.
Great for those are
- Health-conscious
- Busy for work, daily chores, etc.
Cooked local eggs soft, very smooth soup.
Mild and rich flavour makes you feel home and relaxed.
Also easy and convenient! You can enjoy delicious soup at home,
in the office (lunch or evening snack) or outdoor activities.
Local egg, leek, crab sticks, shiitake mushroom, and wakame seaweed
makes this soup colourful and tasty.
Enjoy fresh flavour every day!
Great accompany in your daily life like;
- Convenient small portion for living your own
- Lunch time at office
- Emergency food
- Outdoors and camping
- Travelling
- Night snack
*Direction*
1. Put freeze-dried soup into a mug cup or bowl.
2. Pour 160ml of hot water on it.
3. Stir and enjoy!
Name: Low Sodium Egg Soup (5 servings) 'Soup of the Day'
Ingredients: Reduced sugar syrup, Dextrin, Bouillon powder,
Salt, Soy sauce, Sugar, Hydrolyzed protein, Spices, Egg, Leek,
Crab stick, Shiitake mushroom, Wakame seaweed, Seasonings,
Thickening agent, Cellulose, Colourings, Antioxidant, Spice extract
(including wheat, egg, milk, and soy bean in the ingredients)
Net weight: 35.0g (5 servings)
Expiry: 12months (unopened)
Storage: Avoid direct sunshine. Store in room temperature.
Manufacturer: Amano Jitsugyo Co. Ltd.
Nutrition fact (per 1 serving)
Calories: 27kcal
Protein: 1.5g
Fat: 0.7g
Carbohydrate: 3.7g
Sodium: 398mg
*Package may change without notice.
Category: Amano foods, freeze-dried soup, low-sodium, instant, outdoor, camping