Freeze-dried 'Aka dashi' Mame Miso Soup (5 servings) 'O-wan ni Pon! (Pop into a bowl!) By Marusan-Eye
[
T81MR18551
]
Freeze-dried 'Aka dashi' Mame Miso Soup (5 servings) 'O-wan ni Pon! (Pop into a bowl!) By Marusan-Eye
[
T81MR18551
]
Our Selling Price: US$2.60(tax incl.)
Freeze-dried 'Aka dashi'
Mame Miso Soup (5 servings)
'O-wan ni Pon! (Pop into a bowl!)
By Marusan-Eye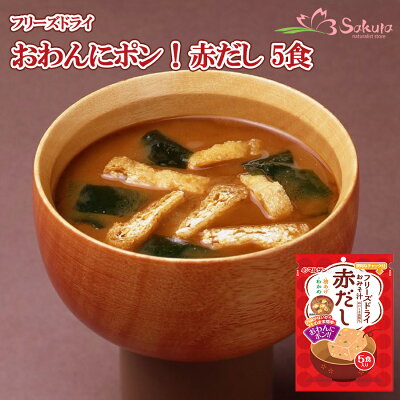 Easy and convenient!
Five portion of freeze-dried miso soup in a bag with zipper.
(One piece per serving)
Just pour hot water, and enjoy homemade-like miso soup.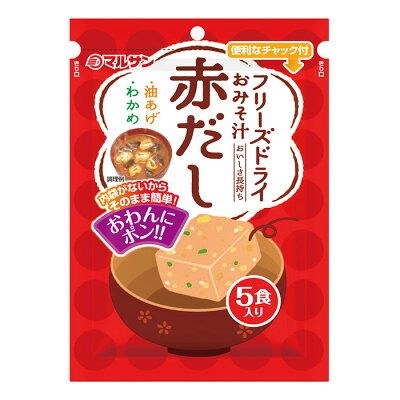 *What's special about this miso soup?*
- Easy measurement: one piece per serving
- Freeze-dry keeps food fresh
- Easy cooking: just pop it into a bowl and pour hot water
- Freeze-dry food does not let hot water temperature down dramatically. Y
ou can enjoy hot miso soup.
Name: Freeze-dried 'Aka dashi' Mame Miso Soup (5 servings)
'O-wan ni Pon! (Pop into a bowl!)
Expiry: 365 days from manufactured date
Storage: In room temperature. Avoid direct sunshine.
Consume as soon as possible once opened package.
Manufacturer: Marusan-eye Co. Ltd.
Ingredients: Mame miso, Bonito flavour seasoning
(Salt, Dried bonito powder, Soy bean protein hydrolyte, Sugar,
Yeast extract powder), Fried thin tofu, Rice miso, Wakame seaweed,
Roasted onion extract *Allergen: Soy bean
*Package may change without notice.
Category: freeze-dry, miso soup, package with zipper, 5 portions, aka dashi