Amano & Matsutani's Low Sodium, Freeze-dried Miso Soup Set of 30 Servings 10 Different Kinds
[
T14FS103302
]
Amano & Matsutani's Low Sodium, Freeze-dried Miso Soup Set of 30 Servings 10 Different Kinds
[
T14FS103302
]
Our Selling Price: US$42.40(tax incl.)
Amano & Matsutani's Low Sodium, Freeze-dried Miso Soup
Set of 30 Servings, 10 Different Kinds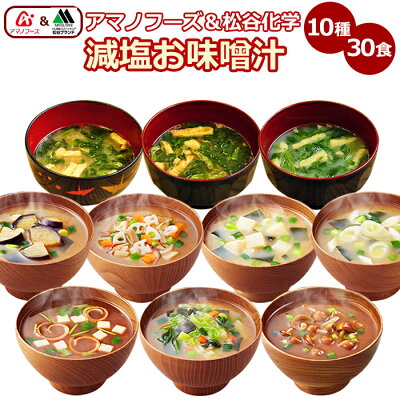 This low salt miso soup is especially good for those who worry about
the salt or the glucose level.
Breakfast, lunch, dinner...Enjoy this miso soup at each mealtime
because you don't have to worry about sodium!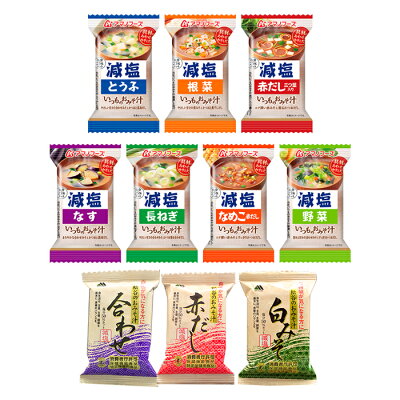 ・Amano Foods series(7kindsX3)
→ The miso and the broth are carefully selected to match
the ingredients in each kind of miso soup.
Because of the wide variety, choosing your favorite
at each meal will be a lot of fun!
Enjoy the original flavor of the ingredients!
・Matsutani miso soup(3kindsX3)
→Great for those who worry about blood sugar level.
Because it's low in salt, and rich in dietary fiber,
this miso soup is a 'special health food' granted
by the Consumer Affairs Agency of Japan.
〈Contents〉
・Low salt "Itumono Omisoshiru"
→Eggplant, Long onion, Tofu, Root vegetables, Red miso soup(with mitsuba),
Nameko mashrooms(red miso soup), Vegetables
・Matsutani miso soup
→Miso, Red miso, White miso
〈Expiry Date〉
1 year from manufacture
〈Storage〉
Keep away from direct sunshine. Store at room temperature.
〈Manufacturer〉
Amano Foods
※Package may change without notice.
Category; Freeze-dried, Low salt, miso soup, glucose level, breakfast, g
ift, stock, emergency food