Hokkaido Soup Gift Set 6 Different Kinds 4 Servings per Piece
[
T81HY71521
]
Hokkaido Soup Gift Set 6 Different Kinds 4 Servings per Piece
[
T81HY71521
]
Our Selling Price: US$20.00(tax included)
Hokkai Yamato
Hokkaido Soup Gift Set 6 Different Kinds
4 Servings per Piece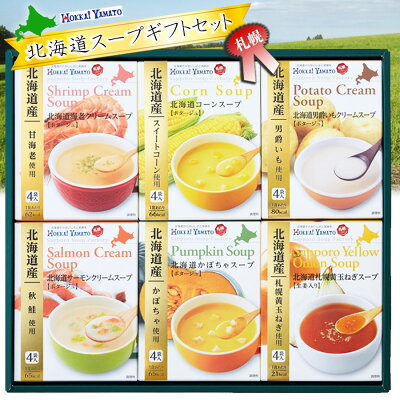 Selected ingredients from Hokkaido!
Hokkaido is a treasury of food in Japan.
Vegetables and milk from Hokkaido are processed into powders,
and they are all mixed up to make this tasty, rich soup.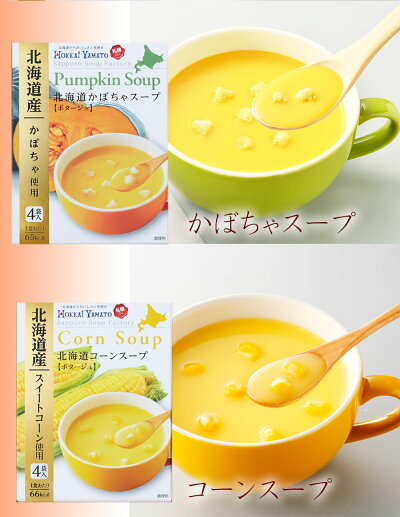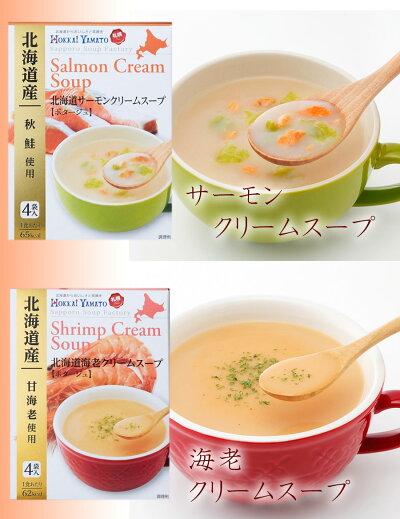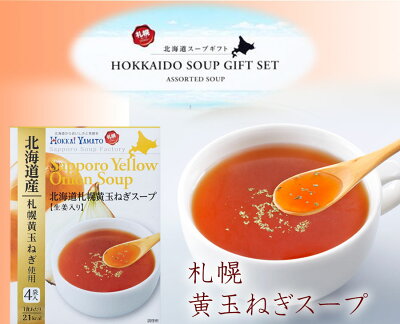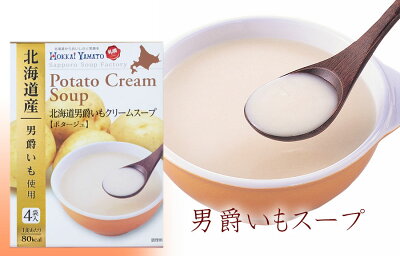 Quick, Easy & Delicious!
It's a perfect gift box of 6 different kinds of tasty soup. (4 servings per kind)
This is a great gift box of very tasty soups from Hokkaido, so anyone who receives this gift box will be so pleased for sure!
The beautiful package will be loved as well!
It's a perfect soup set of flavors that everyone loves!
〈Contents〉
・Sapporo yellow onion soup
→ Sapporo yellow onion is called "Phantom Onion", and designated as a world food heritage. The onion and ginger make up the delicious soup.
Sapporo's Yellow Onion is a very rare kind of onion, and it's abundantly used to make this soup. Also, you will feel a refreshing hint of ginger.
・Pumpkin soup
→ Hokkaido's sweet pumpkin is abundantly used. This rich, sweet pumpkin soup well represents the real taste of Hokkaido!
・Corn soup
→You can enjoy the fun texture of corn in this rich, sweet corn soup.
・Salmon creamy soup
→The rich taste of Hokkaido's salmon stands out well in this creamy soup.
・Shrimp creamy soup
→ It's a very rich, flavorful potage soup of shrimps from Hokkaido.
・Danshaku Potato Soup
→ Danshaku potatoes are abundantly used. It's a very rich and creamy potato soup.
<How to Prepare>
1.Tear a sachet and put the ingredient in a cup/bowl.
2.Add approximately 150ml of hot water and stir well for about 15 seconds.
3. Wait 3 minutes until ready.
〈Food Allergy Warning〉
Milk components, Wheat, Soybeans, Salmon, Shrimp
〈Expiry Date〉
1 year from manufacture
〈Storage〉
Keep away from direct sunshine. Store at room temperature.
〈Manufacturer〉
Hokkai Yamato, ltd
※Please eat as soon as possible after you open.
Category: Instant soup, Potage, Emergency food, Preserved food, Instant, Gift, Outdoor , Camp