Freeze-Dried Miso Soup "The soup of 10 ingredients"Set of 30 servings, 3 Different kinds
[
T11FS10330
]
Freeze-Dried Miso Soup "The soup of 10 ingredients"Set of 30 servings, 3 Different kinds
[
T11FS10330
]
Our Selling Price: US$55.00(tax included)
AMANO FOODS
Freeze-Dried Miso Soup "The soup of 10 ingredients"
Set of 30 servings, 3 Different kinds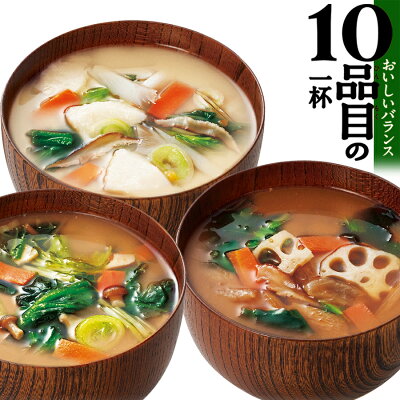 A satisfying 30-packet set of very nutritious freeze-dried miso soup!
AMANO FOODS' original miso soup with 10 kinds of delicious,
well-balanced ingredients.
Freeze-drying removes few nutrients and retains most of the flavor.
Just by adding hot water, you can enjoy delicious miso soup
whenever and wherever you want!
This satisfying set of 30 packets will be a great choice for those who have no time
for making healthy breakfast, or want to add one more healthy dish to each meal.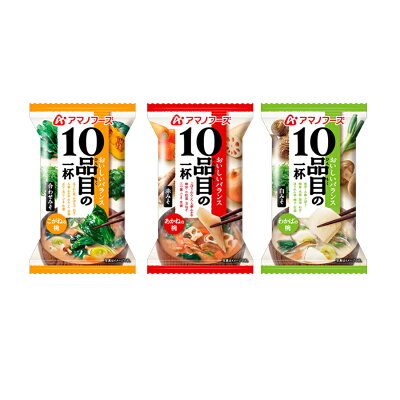 【KOGANE miso soup(miso)】
Igredients: Spinach, Pumpkin, Leek, Carrot, Seaweed, Lotus root,
Potherb mustard, Shimeji, Sesame, Ginger
【AKANE miso soup(red miso)】
Ingredients: Burdock, Lotus root, Carrot, Seaweed, Shiitake mushroom, Komatsuna( Japanese mustard spinach), Onion, Mitsuba, Sesame, Ginger
【WAKABA miso soup(white miso)】
Ingredients: Taro, Carrot, Burdock, Shiitake mushroom, Potherb mustard, Kelp, Spinach, Yuzu(citrus), Ginger
●Freeze-dried soup is especially great for…
・People who live alone.
・Busy lunch time
・Outdoor activities
・Late night meals (e.g. while working overtime)
・Travelling abroad
・As an emergency food stock
<Expiry Date>
1 year from manufacture
<Storage>
Keep away from direct sunshine. Store at room temperature.
<Manufacturer>
Asahi Group Foods, Ltd
※Package may change without notice.
Category: Amanofoods, Freezedried, Easy cooking, 10 ingredients, Miso soup, Vegetable,
Root vegetables, Leaves, Seaweeds, Mushrooms, Breakfast, Gift, Souvenir