Freeze-Dried Soup "The UMAMI" Set of 27 servings, 9 Different kinds
[
T11FSTHE3927
]
Freeze-Dried Soup "The UMAMI" Set of 27 servings, 9 Different kinds
[
T11FSTHE3927
]
Our Selling Price: US$38.80(tax incl.)
AMANO FOODS
Freeze-Dried Soup "The UMAMI"
Set of 27 servings, 9 Different kinds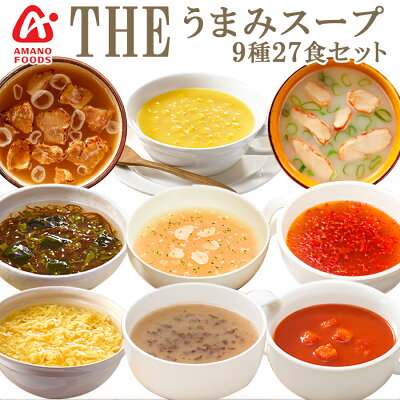 This wonderful 27-packet set of freeze-dried miso soup is so satisfying that you can enjoy the soup on a daily basis just by adding some hot water!
No chemical seasonings are used, but you can taste the authentic umami flavors of the ingredients that are well-extracted in the soup.
Each of the nine kinds of miso soup has its unique flavor extracted
from the ingredients used in the soup.
Enjoy tasting the uniqueness of all nine kinds!
Great as an easy 'something extra' for your meals.
Recommendable for those who want to eat healthy.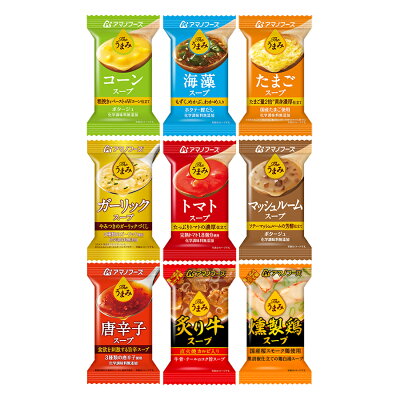 【Contents(3 packs x each kind)】
・Egg soup・Seaweed soup
・Corn soup・Tomato soup
・Garlic soup・Mushroom soup
・Red pepper soup・Roasted beef soup
・Smoked chicken soup
●Freeze-dried soup is especially great for…
- One serving is individually packaged. Great for those who are living alone.
- It's easy to prepare, so it's good as 'something extra' for every day's meals, outdoor activities, or traveling.
- Can be stocked as an emergency food.
- Great as a gift,
<Expiry Date>
1 year from manufacture
<Storage>
Keep away from heat and humidity. Store at room temperature.
<Manufacturer>
Asahi Group Foods, Ltd
※Package may change without notice.
Category: Soup, Instant, Emergency food, Stock, Freeze-dried, Outdoor,
Camp, Gift, Present, Prize