Organic Germinated Brown Onigiri (Rice Balls) | Set of 5 Different Kinds
[
T49FS5110
]
Organic Germinated Brown Onigiri (Rice Balls) | Set of 5 Different Kinds
[
T49FS5110
]
Our Selling Price: US$18.50(tax included)
Organic Germinated Brown Onigiri (Rice Balls) | Set of 5 Different Kinds
〇All you have to do is heat and eat! 
〇Great as a stock food/emergency food!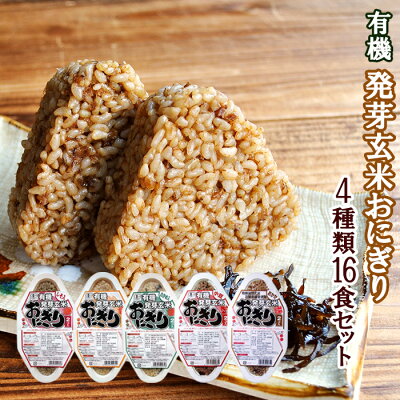 It is made of 100% Japanese organic germinated brown rice.
The freshly steamed, fluffy rice is formed into triangular shaped rice balls and packed in.
You will be satisfied with the set of 5 kinds of delicious rice balls…
plain, dried bonito flakes with soy sauce, red beans, Japanese basil and seaweed.
Each package contains two individually packed rice balls,
so you may eat one of them and leave the other.
The package is microwave-safe, so it's so easy to cook!
JAS-Organic certified.
It's good for…
- The individual pack of one serving is just a perfect size for your lunch time!
- It can be stored as an emergency food, for it has a long shelf life!
- Healthy brown rice is good for those who are on a diet!
【Direction】
In a microwave(500W):
Remove or tear some small holes in the top film lid.
Put it in a microwave oven and heat for one minute. (2 minutes for 2 rice balls)
In boiling water:
Put the unopened package in the boiling water with the top side facing down.
Heat it for 15 minutes over middle heat.
【Expiry Date】
1 year after manufacture
【Storage】
Keep away from sunshine, store in a room temperature.
【Manufacturer】
Kojima Foods Co., Ltd.
※Package may change without notice.
Category: Organic, Rice ball, Pre-packaged food, Germinated brown rice,
Long shelf life, Stocked food, Emergency food