Authentic Japanese Gluten-Free Ramen & Ramen Soup Set X5
[
T67FS255
]
Authentic Japanese Gluten-Free Ramen & Ramen Soup Set X5
[
T67FS255
]
Our Selling Price: US$15.00(tax included)
Authentic Japanese Gluten-Free Ramen
& Ramen Soup Set X5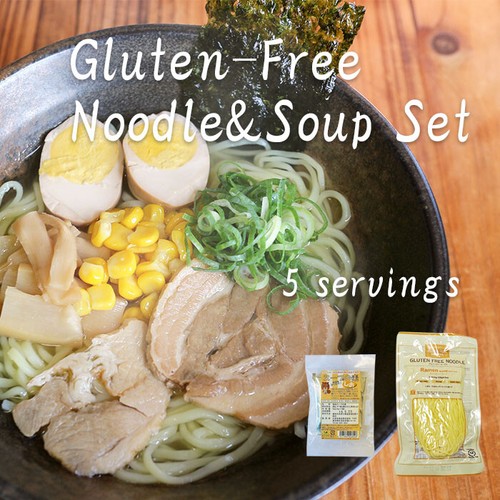 This is a set of gluten free ramen and ramen soup which doesn't include wheat,
barley, rye or any other ingredients called 'gluten'.
The taste and texture aren't much different from regular noodles and soup,
so you must be satisfied enough.
Especially if you are on a gluten-free diet, please give it a try!
〇What is Gluten?
… Gluten is a kind of Protein which is included in grains (ex. wheat, barley, rye…).
Gluten contains chemical substances which increase
your appetite and the blood sugar level.
And eventually, you easily end up gaining extra weight you never want
by taking a lot of it.
〇What is Gluten-Free diet?
… Gluten-free diet is a diet that excludes the "gluten" from what you eat every day.
It is believed that people can lose weight and make their physical condition
better by going on this kind of diet.
Gluten-free diet has already been well-known in many countries for some years.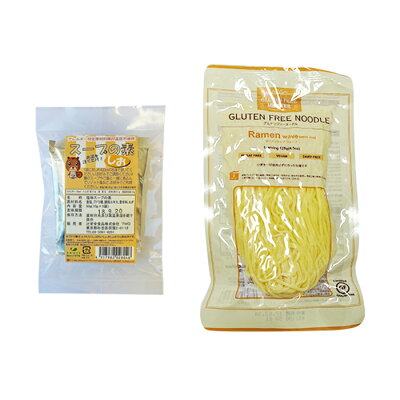 [Contents & Ingredients]
●Gluten-free noodle
… Rice powder, Vinegar, Fermented alcohol, Xanthan gum, Alginate,
Gardenia pigment, Processed starch
●Gluten-free soup
… Sodium, Glucose(corn), Spice(White pepper, Onion, Garlic, Ginger), Green onion
[Storage]
Store at room temperature. Keep away from direct sunshine.
※A design of package may change without notice.