Pre-packed Japanese Mini Donburi Set 4 kinds 12 Servings
[
T64FSG4312 
]
Pre-packed Japanese Mini Donburi Set 4 kinds 12 Servings
[
T64FSG4312 
]
Our Selling Price: US$39.60(tax included)
Pre-packed Japanese Mini Donburi Set
4 kinds 12 Servings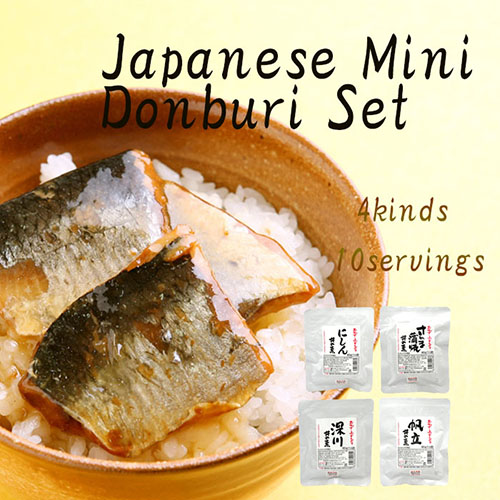 Have you ever heard of "Donburi", one of popular Japanese foods?
Donburi is a Japanese rice bowl dish topped with simmered fish, vegetables or meat.
This set has 12 servings of ready-to-eat toppings for Donburi,
so you only prepare a bowl of rice to enjoy authentic Japanese Donburi!
4 kinds of toppings are all seafood, and their tasty flavors are packed in the pouch.
No chemical seasonings, preservatives, or colorants are used!
Recommend it when you…
・Don't have time to prepare meals.
・Get sick and lose your appetite.
・Prepare meals for a party.
・Look for a gift for someone.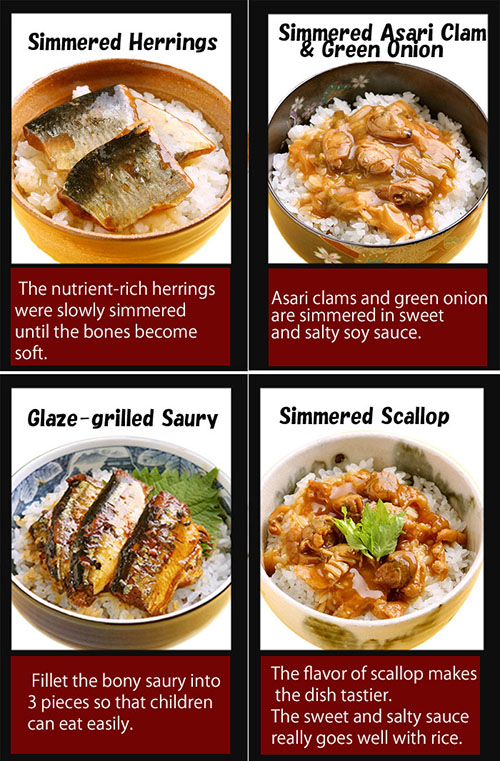 [CONTENTS]
・Simmered Herrings 80gx2
… The nutrient-rich herrings were slowly simmered until the bones become soft.
Its sweet and salty taste will whet your appetite!
・Glaze-grilled Saury 80gX2
… Fillet the bony saury into 3 pieces so that children can eat easily.
The sweet and salty sauce must go well with rice!
・Fukagawa (Simmered Asari clam & Green onion) 80gX2
… Asari clams and green onion are simmered in sweet and salty soy sauce.
The great harmony of the sauce and seafood will make you want more!
・Simmered scallop 80gX2
… The flavor of scallop makes the dish tastier.
The sweet and salty sauce really goes well with rice.
[FEATURES]
・It's just a perfect amount for a bowl of rice.
・Heat only 1〜1.5 minutes in a microwave to serve it.
・It can be not only a topping of rice, but also a nibble for alcohol.
・It has a long shelf time and light weight, so you can bring it to travel.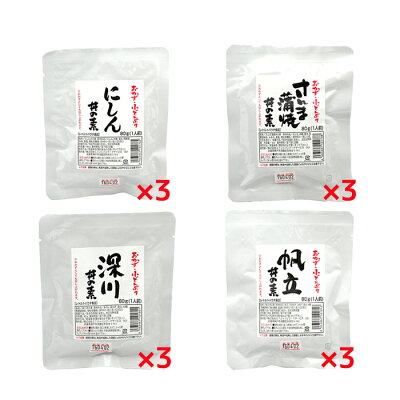 [HOW TO COOK]
In a microwave(500W):
…Open the sealed pouch and remove the contents to a heat-resistant plate.
Then, wrap and microwave it for about 1 minutes.
In boiling water
…Heat the sealed pouch in the boiling water for 5 minutes without breaking the seal.
Then, put the contents on a bowl of rice.
【Expiration Date】
3 years after manufacture
【Storage】
Store at room temperature. (Keep refrigerated after opening)
※Package may change without notice.