Pre-packed Japanese Seafood Side Dish Set of 15 kinds
[
T64FSS15
]
Pre-packed Japanese Seafood Side Dish Set of 15 kinds
[
T64FSS15
]
Our Selling Price: US$65.30(tax included)
Pre-packed Japanese Seafood Side Dish Set of 15 kinds
This is a deluxe set of Japanese seafood side dishes.
Satisfying 15 different kinds of seafood side dishes will save a lot of your daily meal-preparing time!
All you have to do is microwave it for 1-1.5 minutes.
Since the shelf life is 1 year stored at a room temperature, you can also stock it
as an emergency food or give it as a gift to friends who are living alone.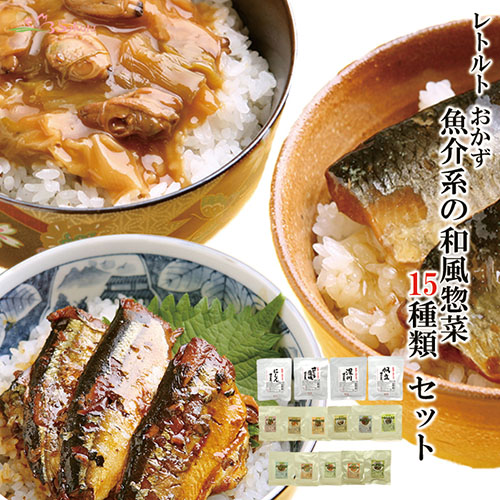 Recommendable for those who…
・Love traditional Japanese food.
・Are busy and don't feel like cooking.
・Want to stock foods just for emergency
[Features]
・Easy to prepare!  
・Storable at a room temperature!
・Best amount for 1-2 people!
[How to Prepare]
In a microwave(500W):
…Open the sealed pouch and remove the contents to a heat-resistant plate.
Then, wrap and microwave it for about 1 minute.
In boiling water
…Heat the sealed pouch in the boiling water for 3 minutes without breaking the seal.
[Contents]
・Simmered yellowtail and radish 200g
・Simmered tuna 120g
・Mackerel simmered in miso 120g
・Candied saury 150g
・Sardine simmered in ginger 150g
・Asari clam simmered in ginger 120g
・Candied herrings 120g
・Simmered red salmon and radish 200g
・Simmered asari clams and dried radish 200g
・Tuna and radish simmered in red wine and soy sauce 150g
・Rolled and simmered kelp with red salmon in it 80g
・Simmered herrings
・Glaze-grilled Saury 80g
・Fukagawa (Simmered Asari clam & Green onion) 80g
・Simmered scallop 80g
・Simmered scallop 80g
【Expiration Date】
1 year after manufacture
【Storage】
Store at room temperature. (Keep refrigerated after opening)
※Package may change without notice.