'OUGON ICHIMI', Japan's Spiciest Ichimi Togarashi Food Set of Five Items
[
T46FS55
]
'OUGON ICHIMI', Japan's Spiciest Ichimi Togarashi Food Set of Five Items
[
T46FS55
]
Our Selling Price: US$27.00(tax incl.)
'OUGON ICHIMI', Japan's Spiciest Ichimi Togarashi Food
Set of Five Items

CAUTION! It's extremely hot!
You really think you are ready? Then try it now!
Don't tell me you believe that Japanese food is not spicy at all!
Japan has spices called Ichimi Togarashi/Shichimi Togarashi, and they are much
loved by spicy food lovers around the world!
*Shichimi Togarashi : Seven-flavor chili pepper, spice mixture containing
red chili pepper and 6 other ingredients.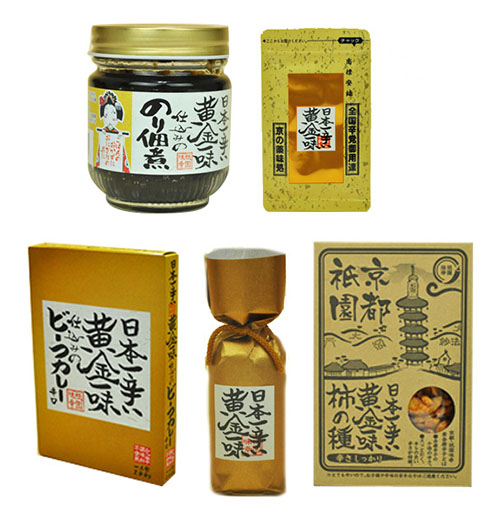 What's 'OUGON ICHIMI'?
'Ougon' literally means 'gold' in Japanese.
The history of the gold cayenne pepper goes back a long time.
An illustration of a gold cayenne pepper is depicted in a very old book from Edo era.
Its origin is Kyoto, Japan, while most other cayenne pepper in Japan are from other countries.


Most ichimi togarashis are red-colored, but the color of OUGON ICHIMI
is gold in color, which makes it very unique among others.
It's the spiciest kind of cayenne pepper, and a research shows that
it's 10 times as spicy as other types of cayenne peppers.
Yes, it's definitely spicy, but it's not only spicy but also very flavorful!

Please be sure not to eat too much at once if you are not good at spicy taste!


[Contents]

〇Ougon Ichimi 13g (bottle) : The Golden Ichimi is packed in a bottle
so that you can directly sprinkle the powder over food.
〇Ougon Ichimi 9g (bag) : The Golden Ichimi is packed in a bag.
〇Tsukudani with Ougon Ichimi 95g : Seaweed is boiled in soy sauce and The Golden Ichimi.
〇Crispy rice crackers with Ougon Ichimi : Small crispy rice crackers
are seasoned with Ougon Ichimi
〇Ougon Ichimi Beef Curry spiced with Ougon Ichimi :
Pre-packaged beef curry is spiced with Ougon Ichimi.


[Storage]
Keep away from direct sunshine, high temperature and humidity. Store at room temperature.
(Please consume as soon as possible after opening package)

※A design of package may change without notice.