Japanese Low-sodium Corn Soup | Only 0.5g Sodium
[
T81HR5020
]
Japanese Low-sodium Corn Soup | Only 0.5g Sodium
[
T81HR5020
]
Our Selling Price: US$2.10(tax incl.)
Low-sodium Corn Soup | Only 0.5g Sodium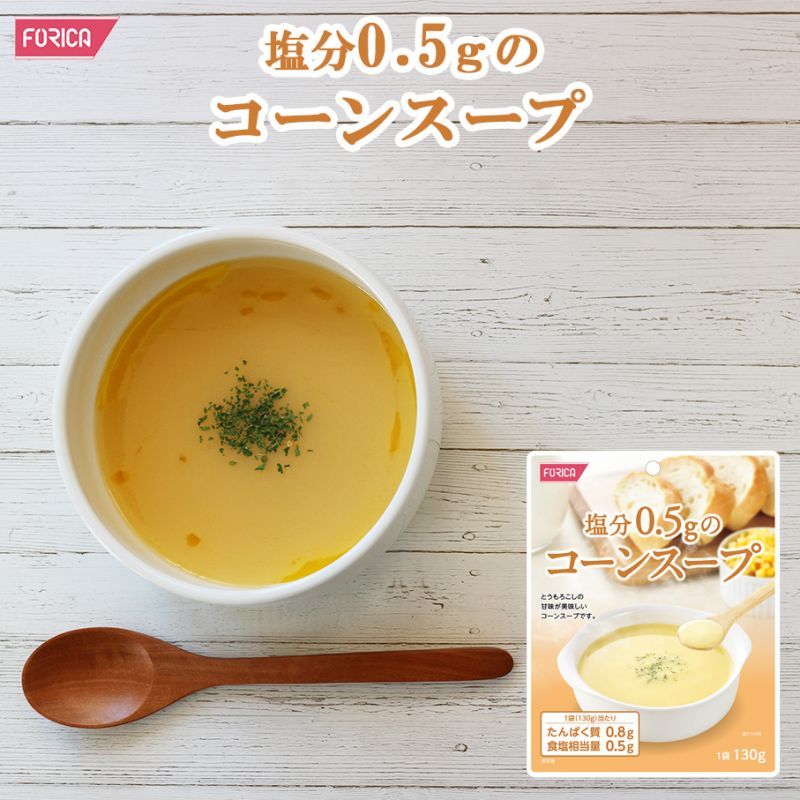 What do you say if you don't have to worry about the amount of sodium
even when you are eating delicious soup like corn soup?

Well, if you are a person who care about sodium, this soup will be a great choice for you!
A normal corn soup usually contains 1.5-2.5g of sodium, but this soup only contains 0.4g.

World Health Organization recommends that healthy adults
limit their daily sodium intake to less than 5g.

Even though you understand the fact, you still want to eat delicious food, don't you?

Carefully adjusted balance of protein, sodium and potassium contained
in the corn soup makes it so special and delicious!
You can feel sweetness of corns in the corn soup.
Enjoy the gentle & mild taste!

Why don't you start an even healthier life without giving up what you want to eat?

[Ingredients]
Corn paste, Vegetable oil, Powdered oils and fats(Vegetable oil, Corn syrup),
Maltodextrin, Sugar, Lard, Chicken bouillon, Spice, Processed starch, Emulsifier,
Cazein Na, Seasonings(Amino acid…),
Essence, Spice extract ( contains wheat, milk component, soy beans, chicken)

[Expiration Date]
8 months from manufacture

[Storage]
Keep away from direct sunshine, high temperature and humidity.
Store in a cool and dark place. (Not in a freezer)

[Manufacturer]
Forica Foods

※A design of package may change without notice.