Japanese Traditional Vegetable Sidedish Set of 7 kinds
[
T64FSU7
]
Japanese Traditional Vegetable Sidedish Set of 7 kinds
[
T64FSU7
]
Our Selling Price: US$36.50(tax included)
Japanese Traditional Vegetable Sidedish
Set of 7 kinds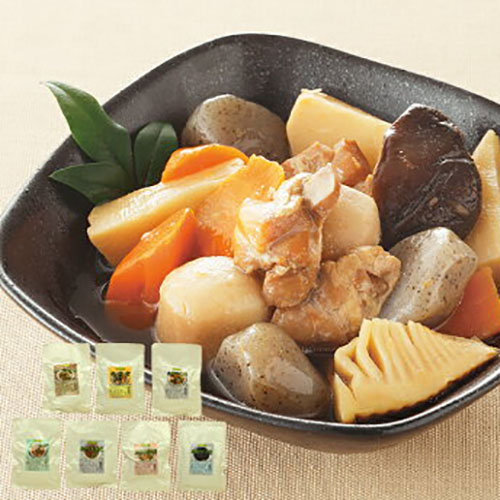 Japanese traditional homemade taste!

7 kinds of Japanese popular side dish are all packed in a pouch so that
you can enjoy Japanese food anytime you want.

Plenty of vegetables are contained in all the dishes,
so they are also recommendable food for improving your healthy life!

[Contents]

・Simmered Hijiki vegetables and Hijiki seaweed
・Chicken stew with some vegetables (Chikuzen-ni)
・Simmered bamboo shoot and herrings
・Simmered meat and potatoes (Nikujaga)
・Asari clams simmered in ginger soup
・Squid stew with Taro
・Simmered taro with chicken flakes


[Amount of contents in per pack]

Best amount for 1-2 people

[Expiry Date]

1 year from manufacturing


[Storage]

Store at room temperature.


※The design of the package may change without notice.