Hokkaido Sapporo Ramen KUWANA Miso Taste X2 Servings
[
T27F016805
]
Hokkaido Sapporo Ramen KUWANA Miso Taste X2 Servings
[
T27F016805
]
Our Selling Price: US$6.50(tax included)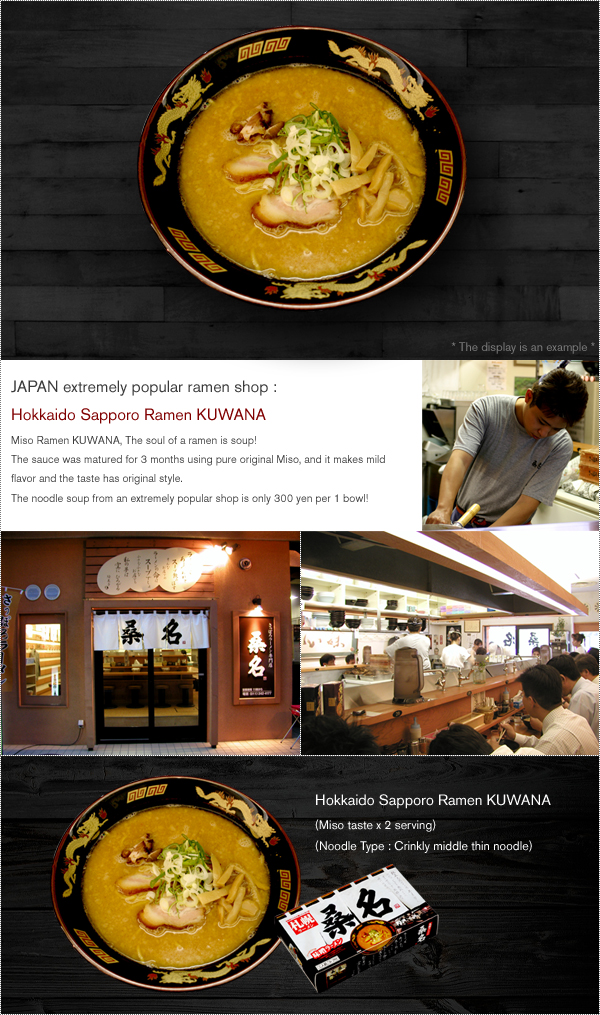 The original taste of Japan famous Ramen restaurants,
now you can taste it at HOME!

Ramen(ラーメン) is a Japanese noodle dish. It consists of Chinese-style wheat noodles served in a meat- or fish-based broth, often flavored with soy sauce or miso, and uses toppings such as sliced pork, dried seaweed, kamaboko, green onions, and occasionally corn. Almost every locality in Japan has its own variation of ramen, from the tonkotsu (pork bone broth) ramen of Kyūshū to the miso ramen of Hokkaidō.
Sapporo Ramen , from the capital of Hokkaidō, is especially famous for its ramen. Most people in Japan associate Sapporo with its rich miso ramen, which was invented there and which is ideal for Hokkaidō's harsh, snowy winters. Sapporo miso ramen is typically topped with sweetcorn, butter, bean sprouts, finely chopped pork, and garlic, and sometimes local seafood such as scallop, squid, and crab. Hakodate, another city of Hokkaidō, is famous for its salt flavored ramen, while Asahikawa,in the north of the island, offers soy sauce flavored ones.
【Contents】
Sapporo Ramen KUWANA (raw Ramen/raw Noodle) Miso taste X 2 servings
【Ingredients】
Noodle:
flour, starch, wheat protein, reduced sugar syrup, yolk, salt, alcohol, gardenia yellow (natural food coloring)
Soup:
Miso, an essence of pork, lard, pork tall oil, reduced sugar syrup, salt, sugar, spice, an essence of vegetables, gelatin, an essence of yeast, seasonings, alchol, caramel
【Volume】
Noddle: 120g x 2 Packs (crinkly middle thin noodle)
Soup: 70g x 2 Packs (Miso soup)
【Calorie】
【Expired Duration】
90 days from the date of produce