Tokyo Ramen SETAGAYA Soy Sauce taste X 2 servings
[
T28FSP41
]
Tokyo Ramen SETAGAYA Soy Sauce taste X 2 servings
[
T28FSP41
]
Our Selling Price: US$6.50(tax included)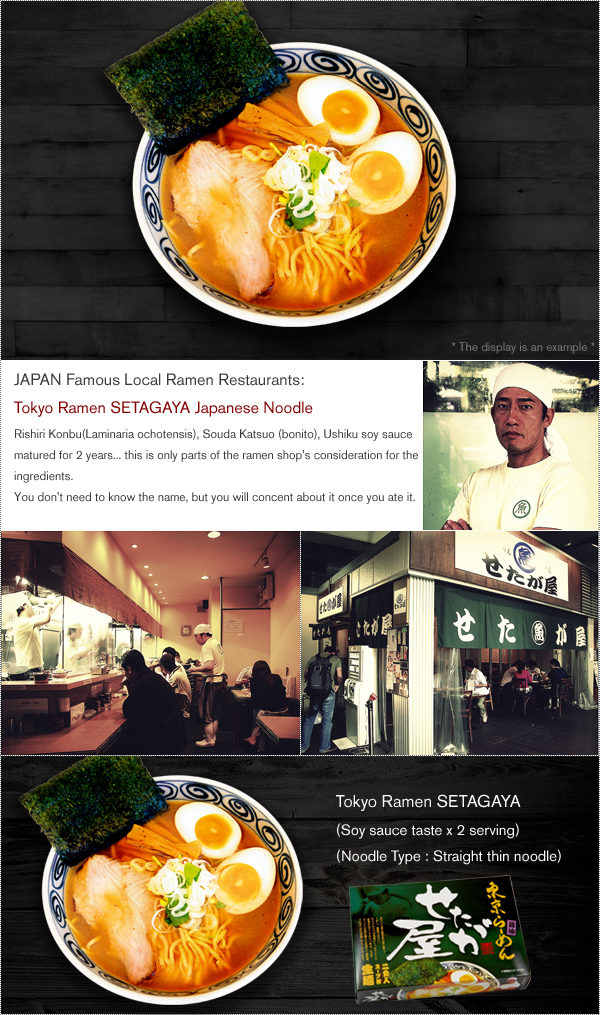 The original taste of Japan famous Ramen restaurants,
now you can taste it at HOME!

Ramen (ラーメン) is a Japanese noodle dish. It consists of Chinese-style wheat noodles served in a meat- or fish-based broth, often flavored with soy sauce or miso, and uses toppings such as sliced pork, dried seaweed, kamaboko, green onions, and occasionally corn. Almost every locality in Japan has its own variation of ramen, from the tonkotsu (pork bone broth) ramen of Kyūshū to the miso ramen of Hokkaidō.
Soy Sauce (Shōyu) Ramen typically has a brown and clear color broth, based on a chicken and vegetable (or sometimes fish or beef) stock with plenty of soy sauce added resulting in a soup that's tangy, salty, and savory yet still fairly light on the palate. Shōyu ramen usually has curly noodles rather than straight ones, but this is not always the case. It is often adorned with marinated bamboo shoots or menma, green onions, kamaboko (fish cakes), nori (seaweed), boiled eggs, bean sprouts and/or black pepper; occasionally the soup will also contain chili oil or Chinese spices, and some shops serve sliced beef instead of the usual chāshū.
【Contents】
Tokyo Ramen SETAGAYA (raw Ramen/raw Noodle) Soy Sauce taste

X 2 servings
【Ingredients】
Noodle:
Flour, starch, wheat protein, reduced sugar syrup, white of an egg, salt, alchol, Lye Water, gardenia yellow (natural food coloring)
Soup:
Soy sauce, an essence of meat, animal fat, vegetable oil, salt, an essence of seafood, sugar,
powder of dried bonito, an essence of kelp, spices, alchol, seasonings (amino acid), Xanthan,
caramel, acidulant(includes wheat, soybean, chicken, pork)
【Volume】
Noddle: 110g x 2 Packs (Straight thin noodle)
Soup: 60g x 2 Packs attached soup (Soy sauce taste soup)
【Calorie】
【Expired Duration】
90 days from the date of produce
【Packaging】
This product is packed in the box which is suitable for survenior / gift / present / or other special occation.