Domoto Syokuhin GOHAN NO OTOMO Canned Pickled Radish 70g
[
T81DM0090
]
Domoto Syokuhin GOHAN NO OTOMO Canned Pickled Radish 70g
[
T81DM0090
]
Our Selling Price: US$3.05(tax included)
Domoto Syokuhin GOHAN NO OTOMO
Canned Pickled Radish 70g
Selecting ingredients made inMiyazaki
Rich taste of pickled radish which goes well with Syochu in Miyazaki.
In Tano city, Miyazaki, where is blessed with warm weather and fertile land,
professors kindly produce this pickle one by one.
With their careful cultivation and processing, you may feel
its light texture and rich taste.
Because it is canned while it's fresh, the expiry is extended to
3 years in the room temperature.
So you can use it as an emergency food or bring it to travel.
In Miyazaki, where is known as "Shochu Kingdom",
professors carefully pickle the radish in authentically-brewed soy sauce
to make it go well with Syochu.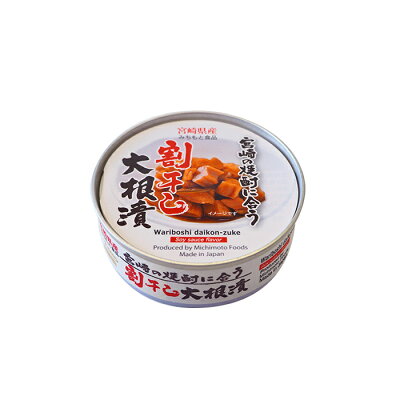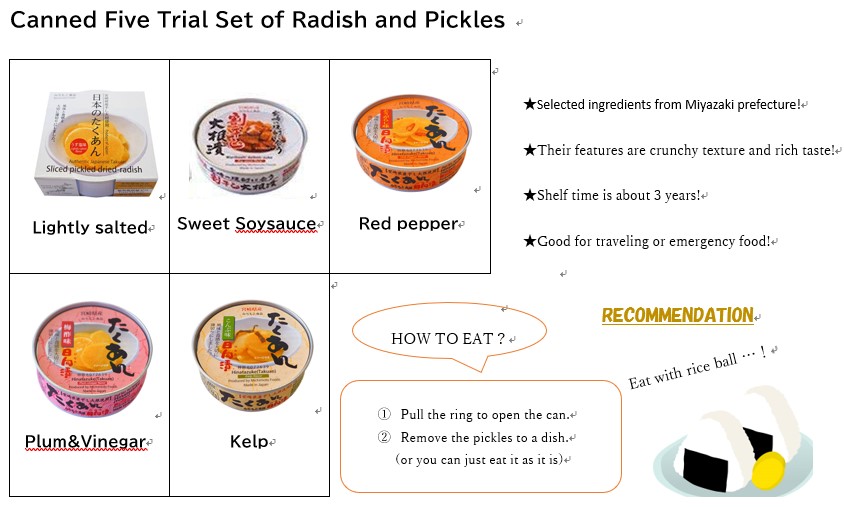 Nutrients: Calorie:85kcal, Protein:3.8g, Fats:0.2g, Carbohydrate:17.1g, S
odium:1900mg (contained 4.8g of salt)
Ingredients: Dried radish, Carrot, Kelp, Ingredients to pickle
( Soysauce, Reduced sugar syrup, Saccharide
(fructose corn syrup, Sugar, Brewed vinegar), Seasonings(Amino acid),
Sweetener(sucralose),
Allergen: Soybean
Expiry: 3years from manufactured
Storage: Keep away from direct sunshine, store in the room temperature.
Manufacturer: Domoto Syokuhin Co., Ltd
※Package may change without notice.