SATAKE "Magic Rice" (mixed with root vegetables)
[
T81ST31030
]
SATAKE "Magic Rice" (mixed with root vegetables)
[
T81ST31030
]
Our Selling Price: US$3.20(tax included)
SATAKE "Magic Rice"
(mixed with root vegetables)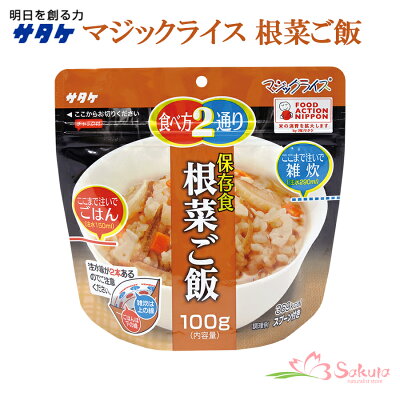 「Allergy-free food」
The shelf life is 5years! It's great to be kept as emergency food supply.
It can be prepared in two ways, as rice or as porridge,
by changing the amount of water added at the time of cooking.
It's delicious and convenient food, that is great for the elderly,
infants, and those of all ages.
【Features of Product】
1) This is such a mild-tasting rice dish with root vegetables. You can feel the rich umami flavor of dashi (soup stock). 27 allergen free ingredients!
2) By varying the amount of water added at the time of cooking,
you can prepare Magic Rice as rice or as porridge.
3) The bag can stand by itself and has a spoon in it,
so you can eat it anywhere you want.
4) A hole at the top of the bag makes it easier to display on hanging store displays.
5) A well-sealed, laminated aluminum package is adopted to ensure safety.
【How to Cook】
1) Take out the packet of deoxidizer and the spoon from the bag.
Widen the bottom of package.
2) For regular rice, pour 160ml of water (hot or cold) up to the red line inside the package. To make porridge, pour 290ml of water(hot/cold).
3) Seal the package and wait for 15 minutes (hot water)/60 minutes (cold water).
●Weight after cooked… Normal rice: 260g, Rice porridge: 390g
27 Allergen Free!
【Ingredients】
Rice(made in Japan), Seasoning(sugar, sodium, shiitake mushroom extract,
amino acid etc…), Shiitake mushrooms, Seasoning lotus root, Carrot,
Burdock, Colorant(caramel), PH conditioner
【Expiry Date】
5 years from manufacture
【Storage】
Keep away from direct sunshine, high-temperature and humidity.
Store at room temperature.
【Manufacturer】
SATAKE
●Great as emergency food, or for various occasions such as outdoor activities/traveling overseas
※The design of the package may change without notice.
Category: Satake, Magic rice, Storing, Disaster prevention, Emergency,
Travel, Outdoor, Camp