[WHOLESALE PRODUCT] Binchotan Charcoal Konjac Sponge
[WHOLESALE PRODUCT] Binchotan Charcoal Konjac Sponge
High Quality
Japanese Binchotan Charcoal Konjac Sponge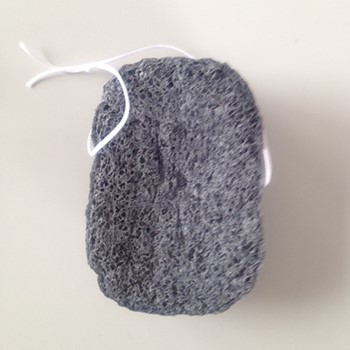 It's made from 2 ingredients only: Konjac & Binchotan Charcoal Powder,
but this combination of the two is perfect for making your skin fresh!
◆Binchotan Charcoal
Binchotan Charcoal is not an ordinary type of charcoal, but is a unique, specific brand charcoal that has been used as fuel by Japanese people for a long time.
Also, Binchotan Charcoal means something more than fuel. Binchotan has numerous small pores in itself, that enables it to absorb dirt, odor, or other chemical substances.
That's why only a small piece of charcoal is sometimes cooked with rice to remove the chlorinated tap water taste, placed in shoe cabinets to absorb bad odor, and placed in rooms as an air freshener.
Thanks to these unique pore structure of Binchotan charcoal, this konjac sponge can remove dirt on your skin so efficiently.
◆Konjac
Konjac is a food that contains a lot of minerals and dietary fibers. Konjac has been eaten in Japan as a medicinal food for about 1500 years.
The safe, natural konjac became an eco-friendly facial sponge that is very soft and gentle to skin. It's 100% biodegradable, and it's well recommended even for little babies and sensitive skin.
●What's good about the Binchotan Charcoal Konjac Sponge Puff?
Binchotan Charcoal Konjac Sponge Puff is very soft and gentle to skin. It exfoliates and moisturizes skin, and detoxifies skin for a radiant complexion.
The mildly alkaline konjac sponge comfortably removes dirt or dead skin cells from your skin.
Konjac fibers wear water coating around once they are soaked in water. That's why the konjac sponge is so gentle to skin. And the water coating is alkaline so that the sponge can remove dirt or even facial hair without rubbing hard, or using face wash.
Size:
Approx. 52 x 75 x 24mm (when dry) / Approx. 70 x 90 x 30mm (when wet)
Ingredients:
Konjac 94% (Made in Gumma Prefecture, Japan), Binchotan powder 5% (Made in Kochi Prefecture, Japan), Calcium hydroxide 1% (Made in Kochi Prefecture, Japan)
◆Private Labeling
The most basic way to do private labeling is that you get your labels ready and put them on the plain packages (see the right photo) yourself.
Or you can send your design data to us and we can make label stickers for you.
If you need other options, please just talk to us.
The price and other costs vary depending on the quantity of your order, Please tell us details of your order request.
Try our free sample!
We can send one piece as a free sample with the shipping cost only.
Please ask us for the shipping cost to your address!