Japan Nara Tenri STAMINA Ramen soy sauce based Tonkotsu pork bone ×2 Servings
[
T27F016840
]
Japan Nara Tenri STAMINA Ramen soy sauce based Tonkotsu pork bone ×2 Servings
[
T27F016840
]
Our Selling Price: US$6.50(tax included)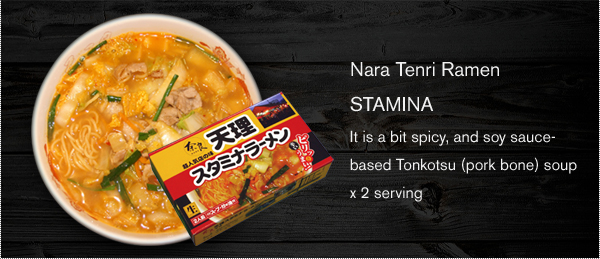 The original taste of Japan famous Ramen restaurants,
now you can taste it at HOME!
Pork Bone (Tonkotsu) Ramen usually has a cloudy white colored broth. It is similar to the Chinese baitang (白湯) and has a thick broth made from boiling pork bones, fat, and collagen over high heat for many hours, which suffuses the broth with a hearty pork flavor and a creamy consistency that rivals milk or melted butter or gravy (depending on the shop). Most shops, but not all, blend this pork broth with a small amount of chicken and vegetable stock and/or soy sauce.
Tenri Stamina Ramen is very popular, and friendlily called 'Ten-sta'.

It is a bit spicy, and soy sauce-based Tonkotsu (pork bone) soup.

The restaurant is very popular with a lot of repeat customers!

'Just one bowl of our Ramen can make people greatly impressed. '
--- That's what the restaurant chef always thinks about his Ramen.

The slow-cooked Tonkotsu soup, the separately cooked chicken stock, and several kinds of vegetables are perfectly blended to make their original soup.

The noodles are made straight and very thin to go perfectly with the soup.
【Contents】
Nara Tenri STAMINA Ramen soy sauce-based Tonkotsu (pork bone)×2 Servings
【Ingredients】
Noodle:
Wheat flour, starch, wheat protein, reducing starch syrup, salt, alcohol, kansui (alkaline solution), gardenia (food coloring)

Soup:
Attached Flavor Packet: Pork extract, soy sauce, pork paste, chicken extract, salt, garlic, Chinese chili sauce, lard, reducing starch syrup, starch, ferment extract, chili peppers, seasonings (amino acids etc.), alcohol, thickening polysaccharide

Oil:
Lard, pork backfat, chili oil, antioxidant (Vitamin E)
【Volume】
Noddle: 100g × 2 packs
Soup: 50g × 2 packs
Oil: 15g × 2 packs
【Expired Duration】
90 days from the date of produce
【Packaging】
This product is packed in the box which is suitable for survenior / gift / present / or other special occation.