Hakata Ramen HIDECHAN Pork Bone Taste X 2 Servings
[
T27F016838
]
Hakata Ramen HIDECHAN Pork Bone Taste X 2 Servings
[
T27F016838
]
Our Selling Price: US$6.50(tax included)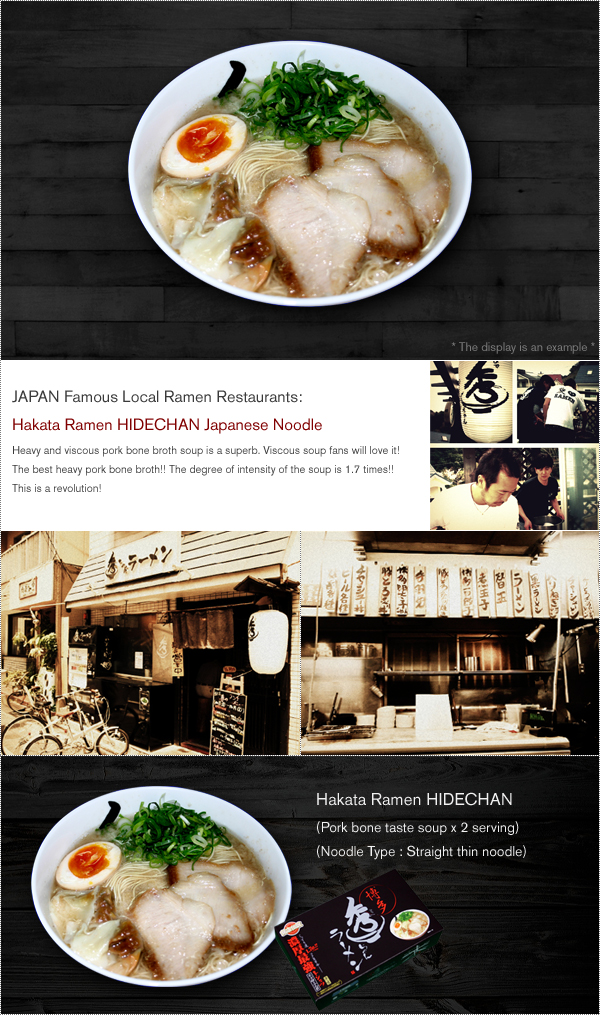 The original taste of Japan famous Ramen restaurants,
now you can taste it at HOME!

Ramen (ラーメン) is a Japanese noodle dish. It consists of Chinese-style wheat noodles served in a meat- or fish-based broth, often flavored with soy sauce or miso, and uses toppings such as sliced pork, dried seaweed, kamaboko, green onions, and occasionally corn. Almost every locality in Japan has its own variation of ramen, from the tonkotsu (pork bone broth) ramen of Kyūshū to the miso ramen of Hokkaidō.
Pork Bone (Tonkotsu) Ramen usually has a cloudy white colored broth. It is similar to the Chinese baitang (白湯) and has a thick broth made from boiling pork bones, fat, and collagen over high heat for many hours, which suffuses the broth with a hearty pork flavor and a creamy consistency that rivals milk or melted butter or gravy (depending on the shop). Most shops, but not all, blend this pork broth with a small amount of chicken and vegetable stock and/or soy sauce.
Hakata Hidechan Ramen - Heavy and viscous pork bone broth soup is a superb. Viscous soup fans will love it!

The best heavy pork bone broth!! The degree of intensity of the soup is 1.7 times!! This is a revolution!

Thick and heavy soup is the best matching to ultimate thin straight noodle!

Adding your favorite ingredients makes the ramen even more tast
【Contents】
Hakata Ramen HIDECHAN (raw Ramen/raw Noodle) Pork bone taste X 2 Servings
【Ingredients】
Noodle:
Flour, starch, wheat protein, reduced sugar syrup, salt, alchol, Lye Water
Soup:
Pork tall oil,soy sauce, an essence of pork, an essence of chicken bone,
pork paste, flavored oil, lard, reduced sugar syrup, salt, sugar, starch,
seasonings (amino acid), alchol, Thickening polysaccharides, an emulsifier
(include wheat, soybean, chicken, pork, geratine)

【Volume】
Noddle: 100g x 2 Packs (Crinkly middle thin noodle)
Soup: 90g x 2 Packs attached soup (Pork bone taste soup)
【Calorie】
【Expired Duration】
90 days from the date of produce
【Packaging】
This product is packed in the box which is suitable for survenior / gift / present / or other special occation.